Blaukopf
Visa Recipients
BLAUKOPF, Anna née TROPP

P

A

T


Age 46 | Visa #2359
BLAUKOPF, Herbert

P

A

T


Age 49 | Visa #2358
About the Family
The BLAUKOPF couple received visas from Aristides de Sousa Mendes in Bordeaux on June 19, 1940.
They crossed into Portugal, where they resided in Estoril, and traveled on the Serpa Pinto from Lisbon to New York in March 1941.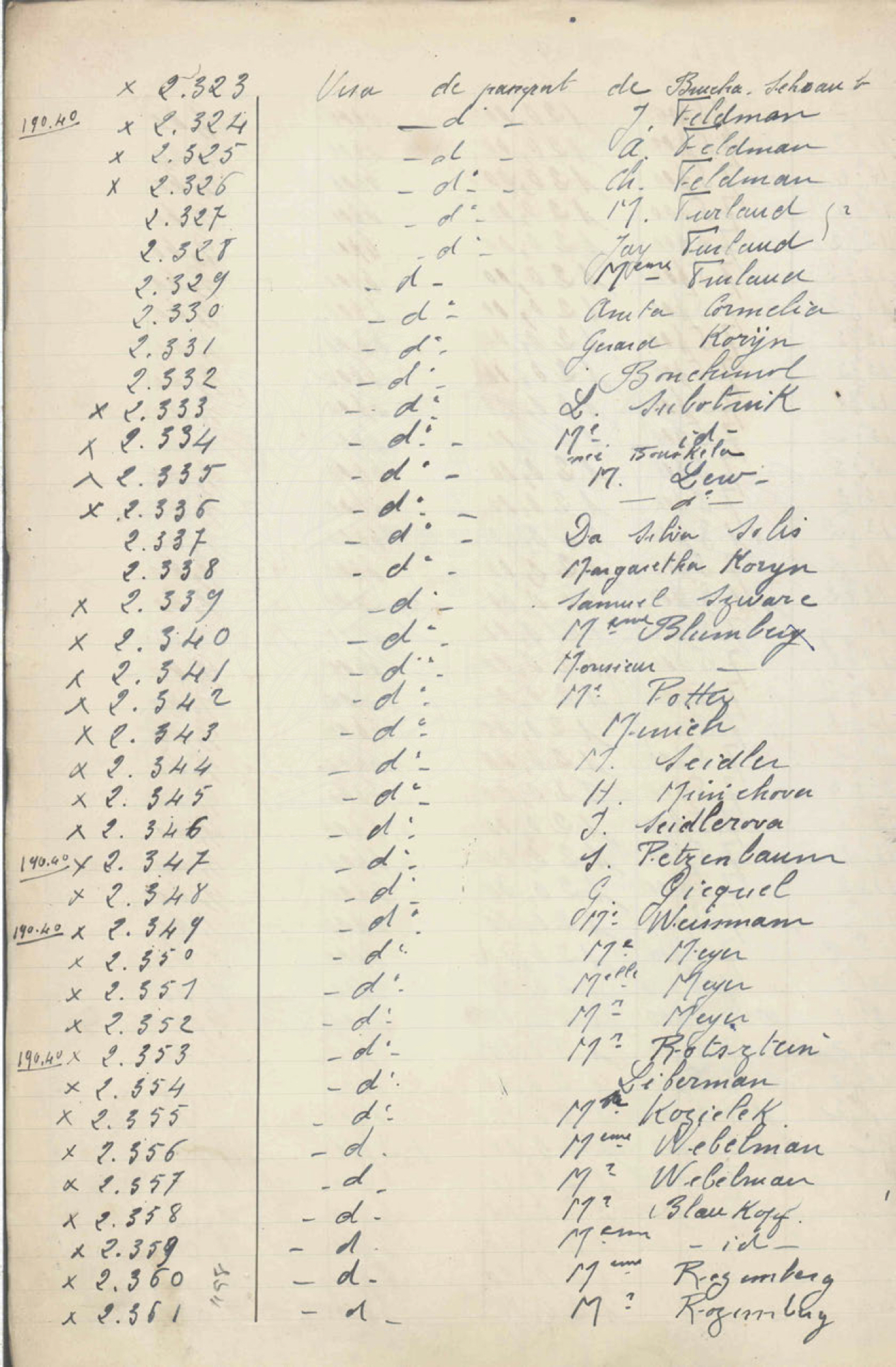 Page of Sousa Mendes Visa Registry Book listing this family and others - Courtesy of the Ministry of Foreign Affairs archives, Lisbon
Testimonial of James BLAUKOPF, grandson of Herbert and Anna BLAUKOPF
Originally from the Habsburg crown land capital of Czernowitz (today Chernivtsi in Ukraine), Herbert (1890-1960) and Anna (1893-1971) Blaukopf arrived in Vienna during WWI with their young son Kurt. Having attended law school in Czernowitz, Herbert became an attorney with a thriving practice in Vienna, where their second son, Otto, was born. The Blaukopf Family was closely involved in Vienna's exciting music scene during the 1920's and 1930's. Among the chamber music groups that performed in their home was the Kolisch Quartet, known for its performance of Schoenberg.
In 1938, when the Nazis took power in Austria, the two sons fled to France from where Kurt made his way to British Palestine. In November of that year, Herbert was arrested during Pogromnacht (Kristallnacht) and briefly imprisoned. Herbert and Anna made their way to France shortly thereafter and remained in Paris until June 1940 when the Germans entered the country. Like many others, they fled south from Paris to Bordeaux, where they had the good fortune to receive visas from Aristides de Sousa Mendes. With these visas they managed to make their way to Lisbon, from where they sailed to New York. They then joined their son Otto in Berkeley, California, where Herbert studied at the University of California to become a Certified Public Accountant. They lived in Berkeley for the rest of their lives. Herbert, Anna, and Otto changed their family name to Barrett. Kurt had three children Joseph, Ruth and Michael Blaukopf. Otto had three children Robert, Peter and James Barrett / Blaukopf.
With regard to the family's flight from France to Lisbon, little is known because Herbert, Anna and Otto did not speak about their wartime experiences. However, some correspondence between Herbert and the British Passport Office has survived, as he and Anna had been seeking visas to go to Palestine. These letters document in part their efforts to leave France and enable us to reconstruct the chronology below concerning the last days before they got to Lisbon.
1940
6 June: A letter from the British Passport Control Office in Paris to Herbert telling him that they had permission to issues visas for Herbert and Anna to go to Palestine. They were not able to take advantage of this opportunity.
10 June: The French government fled to Bordeaux and a few days later the Nazis entered Paris.
19 June: In Bordeaux, Herbert and Anna received visas from Aristides de Sousa Mendes.
25 June: The French surrendered.
We don't know exactly when they arrived in Portugal; however it is evident from this timeline that the visas issued by Aristides de Sousa Mendes were crucial in their escape.