Moed
Visa Recipients
MOED, David

P

A


Age 38 | Visa #1001
MOED, Léon

V

P

A

T


Age 9
MOED, Pearl

P

A


Age 2
MOED, Peniel

P

A


Age 6
MOED, Sophie/Schifra née GOLOMB

P

A


Age 38 | Visa #1002
About the Family
The MOED family received visas from Aristides de Sousa Mendes in Bordeaux on May 28, 1940.
They crossed into Portugal, where they lived in Porto. They sailed on the Nea Hellas from Lisbon to New York in September 1940.
Visa issued to David MOED in Bordeaux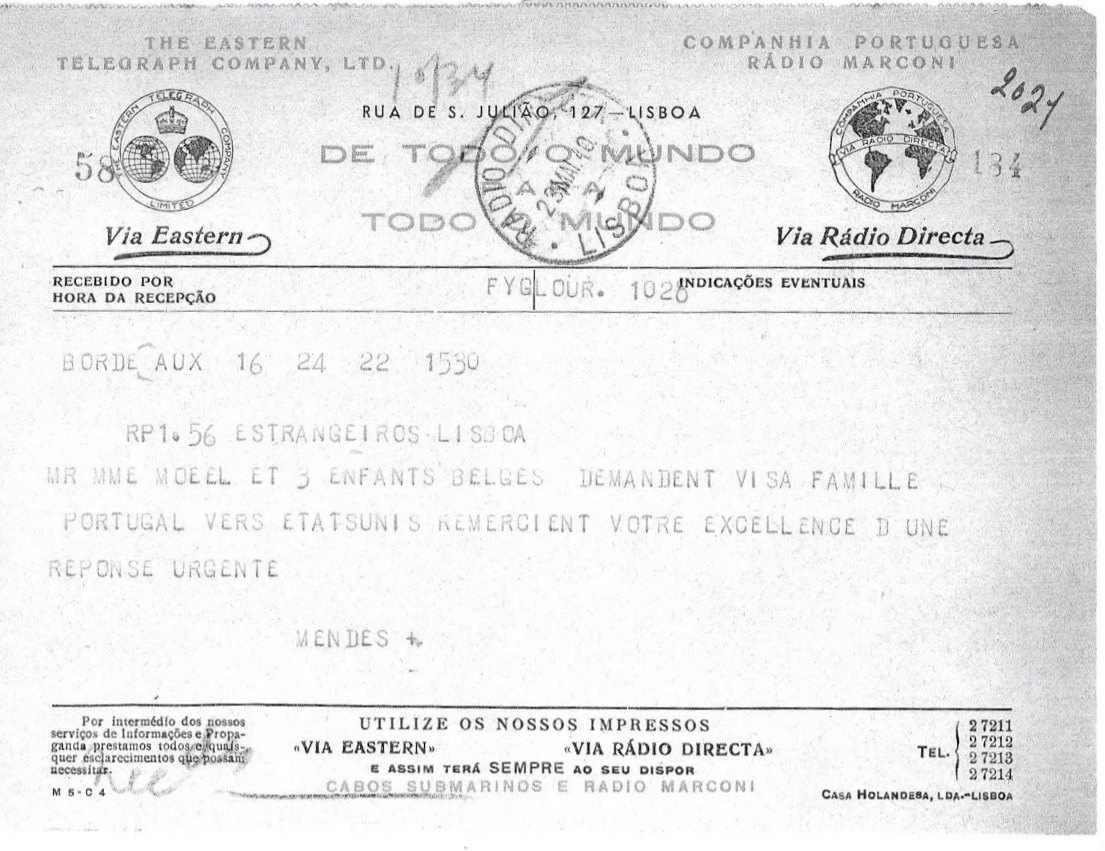 Telegram from Sousa Mendes on behalf of MOED family, misspelled here as MOEEL - Courtesy of the Ministry of Foreign Affairs archives, Lisbon
Page of Sousa Mendes Visa Registry Book listing this family and others - Courtesy of the Ministry of Foreign Affairs archives, Lisbon
Testimonial of Leon Moed
My family lived in Antwerp. Belgium. The dawn of our flight for survival occurred on the morning of May 10, 1940, when the Germans bombed the city, as they embarked on the conquest of the Low Countries and France. My father was mobilized into the army. My mother and her three children fled to La Panne in southern Belgium. That was our introduction to the desperation of the throngs of people seeking refuge. My father was released after a week and miraculously managed to find us in that maelstrom of refugees. 
From there we proceeded to France, where our train was bombed on the way to Paris. We continued south, eventually arriving in Bordeaux, to seek passage out of France to the safety of Portugal. Bordeaux was in turmoil. It was the last feasible way station providing the means of fleeing to a neutral haven. Wounded soldiers were returning from the front. Refugees were huddled and besieging the consulates of friendly neutral countries for safe passage. It was in this arena of anguish and desperation that my father sought the help of the Portuguese Consulate. 
The actions undertaken by Aristides de Sousa Mendes gave my family the refuge and means of escape from the impending onslaught, enabling us to arrive in the United States on September 9th, 1940 and begin our life anew.  Motivated by goals fashioned by deeply felt human and religious values, Sousa Mendes contravened his government's instructions, and continued to issue visas to desperate refugees. For this act of humanity, his government terminated his diplomatic career and confiscated his personal property. 
His defiance was fueled by an upbringing which instilled morality and awe of the Higher Being, by putting conscience before personal consideration. It reflects the words of the Christian theologian Miroslav Volf: "God is both the ground of the protest and its target. I protest, and therefore I believe." For me, Aristides de Sousa Mendes is the embodiment of the thought in Jewish tradition that states that "Whoever saves a life, it is considered as if he has saved the entire world."