Zissu
Visa Recipients
ZISSU, Bettina née STERNBERG

P

A


Age 48 | Visa #2121
ZISSU, Pierre Ignace

P

A


Age 18 | Visa #2122
ZISSU, Roland

P

A

T


Age 20 | Visa #2120
ZISSU alias WILLOUGHBY, Lazare

P

A


Age 43 | Visa #2109
About the Family
The ZISSU family received visas from Aristides de Sousa Mendes in Bordeaux on June 18, 1940.
Lazare, Bettina and Pierre ZISSU crossed into Portugal and sailed from Lisbon to Brazil on the vessel Serpa Pinto in October 1940. Roland ZISSU attempted to flee from France to the United Kingdom but was unable to do so. He remained in France and became active in the Resistance, eventually fleeing to Algiers.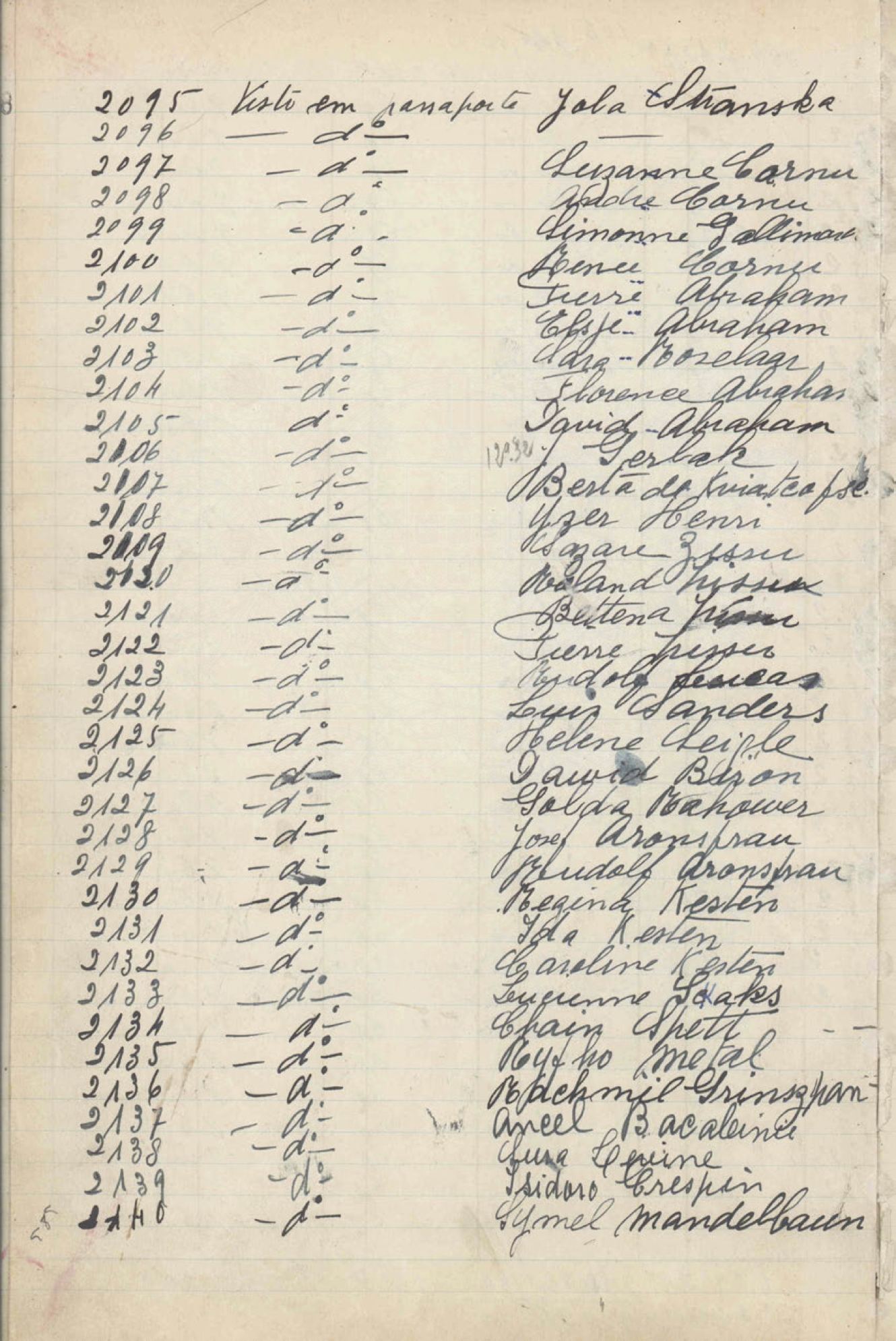 Page of Sousa Mendes Visa Registry Book listing this family and others - Courtesy of the Ministry of Foreign Affairs archives, Lisbon
War experience of Roland ZISSU
Source: http://www.homeoint.org/seror/zissu/biographie.htm
Né le 17 décembre 1919 à Paris (9°), il fut élève au Lycée Pasteur de Neuilly-sur-Seine pour toute sa scolarité. Il eut notamment Jean-Paul Sartre comme professeur de philosophie. Il souhaitait enseigner mais ses parents le destinèrent à la médecine.

Ses études médicales ont été faites à Paris pour les trois premières années. Mobilisé le 8 juin 1940, la défaite le trouve à Bordeaux. Il essaye de passer en Angleterre et n'y réussit pas, après une escapade "clandestine" à Bayonne. Il fut alors infirmier dans les chantiers de jeunesse et démobilisé 6 mois plus tard. Il poursuit ses études, 4° et 5° années de médecine à la faculté de Montpellier. Il est même diplômé d'études pénales de Montpellier.

En même temps, il joue un rôle actif dans la Résistance (1941, 1942 et début 1943). Pour éviter l'arrestation, il passe en Espagne et de là, il se rend à Casablanca puis à Alger. Il soutient sa thèse de doctorat en médecine à Alger fin juin 1943: "Contribution à l'étude du "mesenterium communé" – A propos de trois observations", publiée chez Maloine à Paris. Il rejoint ensuite les armées de la France libre. Il fait d'abord comme médecin aspirant, puis sous lieutenant, la campagne d'Italie (de Naples à Rome). Il participe ensuite au débarquement de la Première Division française libre du Général de Lattre de Tassigny à Cavalaire-sur-mer, qui remonte vers le nord et libère Lyon, puis au sud de Strasbourg. Il est fait prisonnier, doit marcher à pied jusqu'à Meiningen (Janvier – Mai 1945). Libéré, il rentre en France pour être démobilisé avec le grade de médecin-capitaine, décoré de la Croix de guerre.