May-August 2017 Maine Exhibition
FOR IMMEDIATE RELEASE
April 19, 2017
EXHIBITION ON RESCUERS AT THE HOLOCAUST AND HUMAN RIGHTS CENTER OF MAINE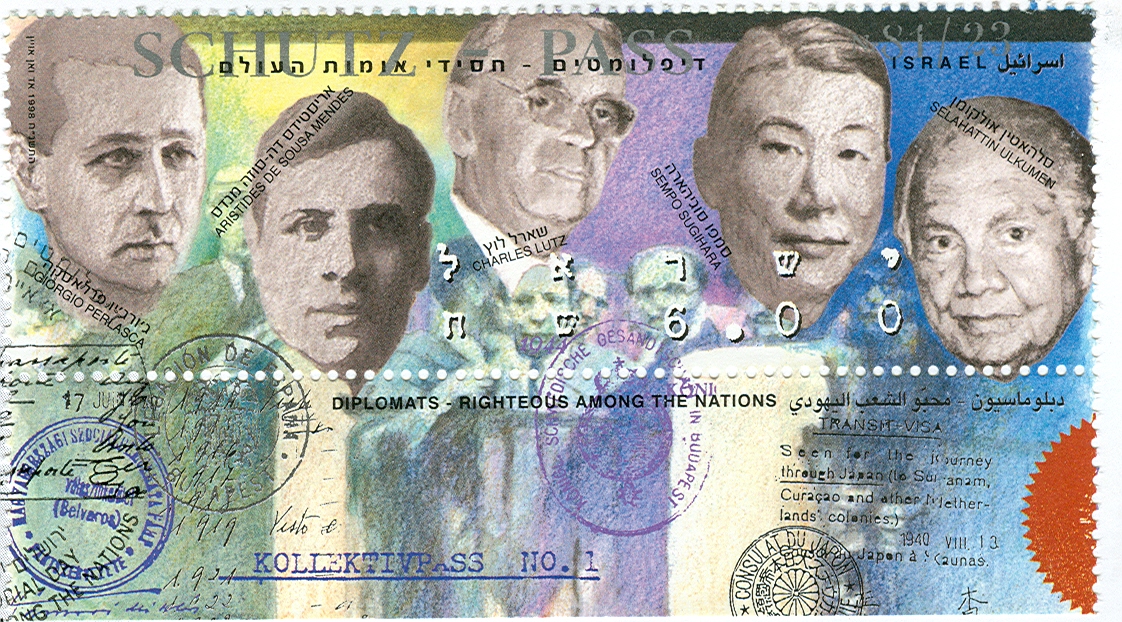 Postage stamp issued by Israel in 1998 honoring Aristides de Sousa Mendes and other rescuers
The Holocaust and Human Rights Center of Maine will open its new exhibit, Heroism in Unjust Times: Rescuers During the Holocaust on Wednesday, May 3rd. The exhibit will be on display at the Michael Klahr Center, located on the campus of the University of Maine at Augusta through Friday, August 11th.
Despite the potentially fatal consequences, thousands of individuals risked their lives to help those targeted by the Nazis. Heroism in Unjust Times: Rescuers During the Holocaust, celebrates and honors those righteous individuals. The exhibit will also share stories of individuals and their descendants who were saved by these rescuers and settled in Maine and nearby.
There will be an opening event on Wednesday, May 3rd from 5 PM to 7 PM, with a program beginning at 5:30 PM. Refreshments will be provided and there is no fee to attend, although donations are gratefully accepted.
The program will include several speakers whose families' stories and artifacts are featured in the exhibit: Julie Lanoie, whose grandmother Allegonda Balte-Peper was involved with the Dutch Resistance and cared for some 45 Jews, in addition to hiding her Jewish husband, Philip Peper, in their home; and Walt Bannon, whose grandfather Auguste Felix Florin was involved with the Belgian Resistance.
There will be several artifacts and stories of rescuers during the Holocaust featured in the exhibit, including that of Portuguese consul Aristides de Sousa Mendes, who issued thousands of visas illegally to Jews and non-Jews targeted by the Nazis; Oskar Schindler, responsible for saving approximately 1,200 Jewish men, women and children; Raoul Wallenberg, who saved as many as 100,000 Hungarian Jews; Father Bruno (Henri Reynders), who protected 300-400 Jews, most of whom were children; and Muslim-Albanian families who saved Jews.
Heroism in Unjust Times is presented in partnership with the Sousa Mendes Foundation, Yad Vashem, Darrell English, Julie Lanoie, Joan Lanoie, Jennie Blair, Mona Pearl Treyball, Walt Bannon and Jean-Claude van Itallie. Additional lenders include Ruth Hymans Charchat, Rudolph and Janet de Winter, Marilyn Eisenbruch Jacques, Monique Rubens Krohn, Edith Kubicek, Sebastian Mendes, Kathleen Rand, Benjamin Schlesinger and Georgette Lorié Standish.
This exhibit has been made possible with the generous support of Kennebec Savings Bank.  Kennebec Savings Bank fosters a culture of giving through its Community Dividends Program that supports over 300 local organizations across the 30 communities they serve. To learn more about Kennebec Savings Bank, visit them online at kennebecsavings.bank.
There is no admission to visit the Michael Klahr Center and the exhibit will be open Monday through Friday from 10 a.m. to 4 p.m., and on weekends and evenings by appointment. For more information call (207) 621-3530. The Center also includes a permanent exhibit about Michael Klahr, a hidden child who survived the Holocaust and the 80-minute multimedia presentation Were the House Still Standing: Maine Survivors and Liberators Remember the Holocaust. For more information on the Michael Klahr Center and the programs of the HHRC, visit hhrcmaine.org.
Established in 2010, the Sousa Mendes Foundation is dedicated to honoring the memory of Aristides de Sousa Mendes and to teaching the importance of moral courage in a civilized world.  www.sousamendesfoundation.org
For more information, please contact: Jordan Bannister, (207) 621-3530 or jordan.bannister@maine.edu.