Posthumous Honor for Sousa Mendes
FOR IMMEDIATE RELEASE
April 3, 2017
PORTUGAL HONORS ARISTIDES DE SOUSA MENDES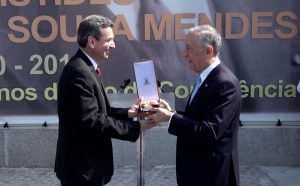 Gerald Mendes (left) receives Grand Cross of the Order of Liberty in his grandfather's name
Portugal's President Marcelo Rebelo de Sousa bestowed Portugal's highest honor, the Grand Cross of the Order of Liberty, on Aristides de Sousa Mendes in a ceremony today at the Sousa Mendes family home, Casa do Passal, in Cabanas de Viriato, Portugal. Receiving the award on behalf of the Sousa Mendes family was Gerald Mendes, grandson of Aristides de Sousa Mendes.
President Rebelo de Sousa used the occasion to remind the assembled gathering of the relevance of Sousa Mendes's action to today's world.  "This is a very special honor, as it is being given at a time in which tragedies of new wars and persecutions bring painful images of rootless people looking for a land of freedom, representing for Europe the worst refugee crisis since the Second World War," Rebelo de Sousa said.
Sousa Mendes's first posthumous decoration in Portugal was as Officer of the Order of Liberty, bestowed in October of 1986 by then-President Mario Soares, as a result of a long and concerted campaign by the US-based International Committee to Commemorate Dr. Aristides de Sousa Mendes. Later, during the National Homage held in March 1995, Portugal issued a postage stamp for Sousa Mendes, and Soares bestowed upon him the Grand Cross of the Order of Christ.
President Rebelo de Sousa became inspired to bestow this new award upon meeting the Sousa Mendes Foundation's delegation during the June-July 2016 "Journey on the Road to Freedom" tour.  On that occasion, he received the group — made up of Sousa Mendes visa recipients, descendants of visa recipients, members of the Sousa Mendes family and Holocaust educators — at the Belem Palace in Lisbon.
He met with the Sousa Mendes Foundation group again in New York at the Center for Jewish History, on September 22, 2016.  It was on that occasion that he announced his intention to bestow a high honor upon Sousa Mendes. The date of April 3rd was chosen for the ceremony as the anniversary of the death of Aristides de Sousa Mendes in 1954.
"There are no homage and posthumous decorations that give back all the life destroyed, all the injustice committed, all persecution inexorably maintained," President Rebelo de Sousa remarked. "There are never complete reparations, but there are acknowledgments of guilt, there are exemplary evocations for the past, urgent warnings for the present, inevitable lessons for the future," he added.
For a video of the President's speech (in Portuguese), go here:  http://www.presidencia.pt/?idc=10&idi=125357