Bloomberg Philanthropies Awards $25,000 Grant to Sousa Mendes Foundation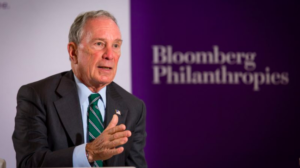 Mayor Michael Bloomberg, founder of Bloomberg Philanthropies
jaklfjkddfjk
The Sousa Mendes Foundation is delighted to announce that we have received a $25,000 grant from Bloomberg Philanthropies.  The grant is in support of an innovative art installation project designed to bring the story of Aristides de Sousa Mendes to new audiences through art.
xxxxx
The art project is a "video sculpture" conceived by the late Sebastian Mendes, grandson of Aristides de Sousa Mendes who served on the art faculty of Western Washington University.  It will be executed by Werner Klotz, a specialist in public art projects whose most recent work is a large installation in San Francisco's Union Square.  The artwork, in the form of a chandelier, is intended to be suspended from a ceiling but is also displayable on a stand.  It includes twelve video screens with images of Aristides de Sousa Mendes and the refugees he saved.
For more on the video sculpture project, including how to support it, please click here.