KLARSFELD — A Love Story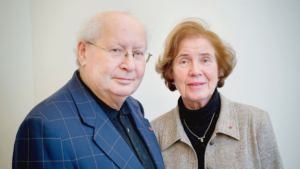 11 AM LOS ANGELES • 2 PM NEW YORK
xxxxx
Serge and Beate Klarsfeld are best known to the public as Nazi hunters. Thanks to their heroic efforts, Nazi criminals Klaus Barbie, Alois Brunner, Kurt Lischka and many others were brought to justice in Germany and France. In parallel with this effort is their tireless work to document the names, faces and lives of the murdered Jews of France. They also continue to speak up for an inclusive multi-ethnic Europe and against the rising tide of extremist right-wing political figures and parties. The new documentary film, KLARSFELD — A LOVE STORY, documents their extraordinary partnership for justice. They will be interviewed on this program by Peter Hellman. Not to be missed!
Who will write our history? — Heroic Tales of Jewish Resistance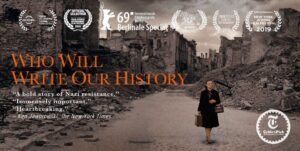 1 PM LOS ANGELES • 4 PM NEW YORK
This program features the award-winning film Who will write our history? on the true story of the resistance fighters of the Warsaw Ghetto who, in the face of certain death, systematically and heroically assembled and buried an archive to preserve the memories of their lives. In conjunction with the film screening, the Holocaust scholar Dr. Jud Newborn will put this inspiring story in the context of the wide variety of forms of Jewish spiritual and physical resistance practiced all across Nazi-occupied Europe.