Apte/Goldmuntz/Steinberg
Visa Recipients
APTE, Jean Marcel aka Johnny

P


Age 4
APTE, Joseph

P


Age 39
APTE, Julia née STEINBERG

P


Age 30
GOLDMUNTZ, Andrée Huguette Paule

A


Age 14
GOLDMUNTZ, Edgar Lucien

P

A


Age 11
GOLDMUNTZ, Eliane

A


Age 7
GOLDMUNTZ, Julia née KLEINBERG

P

A


Age 42
GOLDMUNTZ, Leopold Abraham

P

A


Age 49
GOLDMUNTZ, Louis Sylvain

A


Age 23
GOLDMUNTZ, Lucien

P

A


Age 19 | Visa #931
GOLDMUNTZ, Martin

P

A


Age 17
GOLDMUNTZ, Michel

P

A


Age 60
GOLDMUNTZ, Odette Fernande

P

A


Age 16
GOLDMUNTZ, Paulette

P

A


Age 21
GOLDMUNTZ, Rosa née STEINBERG

P

A


Age 55
GOLDMUNTZ, Sigmund/Simon

A


Age 33
GOLDMUNTZ, Sonia/Sophie née HARTVELD

P

A


Age 31
STEINBERG, Leon

P

A


Age 56
STEINBERG, Lucien

P

A


Age 20 | Visa unnumbered
STEINBERG, Nathalie née GOLDMUNTZ

P

A


Age 45
About the Family
Some members of this extended family received Portuguese transit visas authorized by Aristides de Sousa Mendes in Bordeaux in June 1940. The GOLDMUNTZ-STEINBERG family had previously been denied visas by Salazar, the Portuguese head-of-state. Lucien STEINBERG received a visa signed by Emile Gissot, the Portuguese consul in Toulouse acting under instructions from Aristides de Sousa Mendes, on June 25, 1940. Oral testimony of Odette CHERTOK née GOLDMUNTZ, combined with information from passenger lists, suggests that the entire family may have received visas granted by Sousa Mendes or his subordinates.
After crossing into Portugal the families sailed from Lisbon to New York in three separate groups: Leopold and Julia GOLDMUNTZ (daughter of Rosa KLEINBERG), along with their children Andree, Edgar, and Odette, sailed on the Quanza in August 1940. Sigmund, Sonia and Eliane GOLDMUNTZ traveled on the Nyassa in November 1940. On the Serpa Pinto in December 1940 were the APTE family along with Michel and Rosa GOLDMUNTZ and their children, Louis Sylvain, Paulette, and Martin. In March 1941, Leon and Nathalie STEINBERG made the crossing on the Serpa Pinto.
Lucien GOLDMUNTZ was a US citizen. He did not use his Portuguese transit visa; he sailed on the SS Washington from Le Verdon, France to New York in June 1940. Lucien STEINBERG, first cousin of Lucien GOLDMUNTZ, made his way into Portugal in October 1940 and subsequently traveled from Lisbon to New York on the vessel Serpa Pinto in January 1941.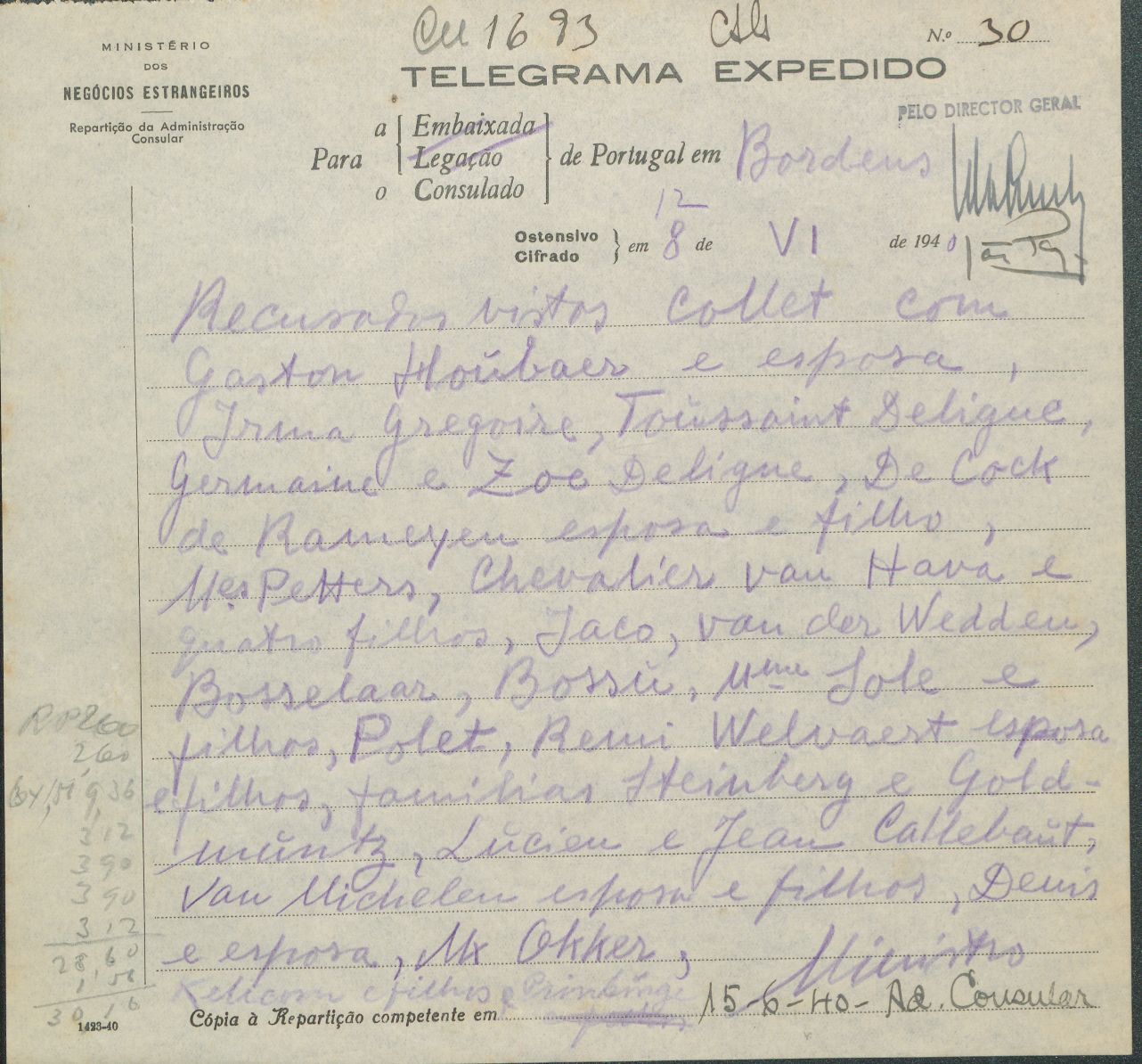 Telegram from Salazar denying visas to this family and others - Courtesy of the Portuguese Ministry of Foreign Affairs archives, Lisbon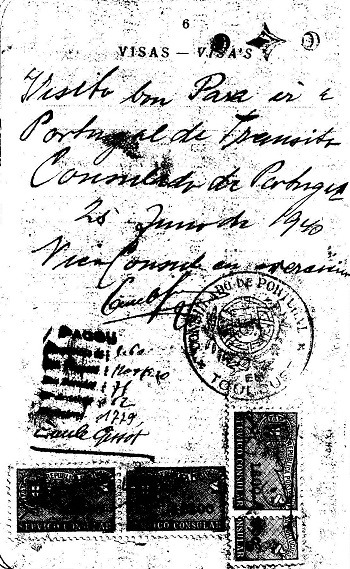 Visa issued to Lucien STEINBERG in Toulouse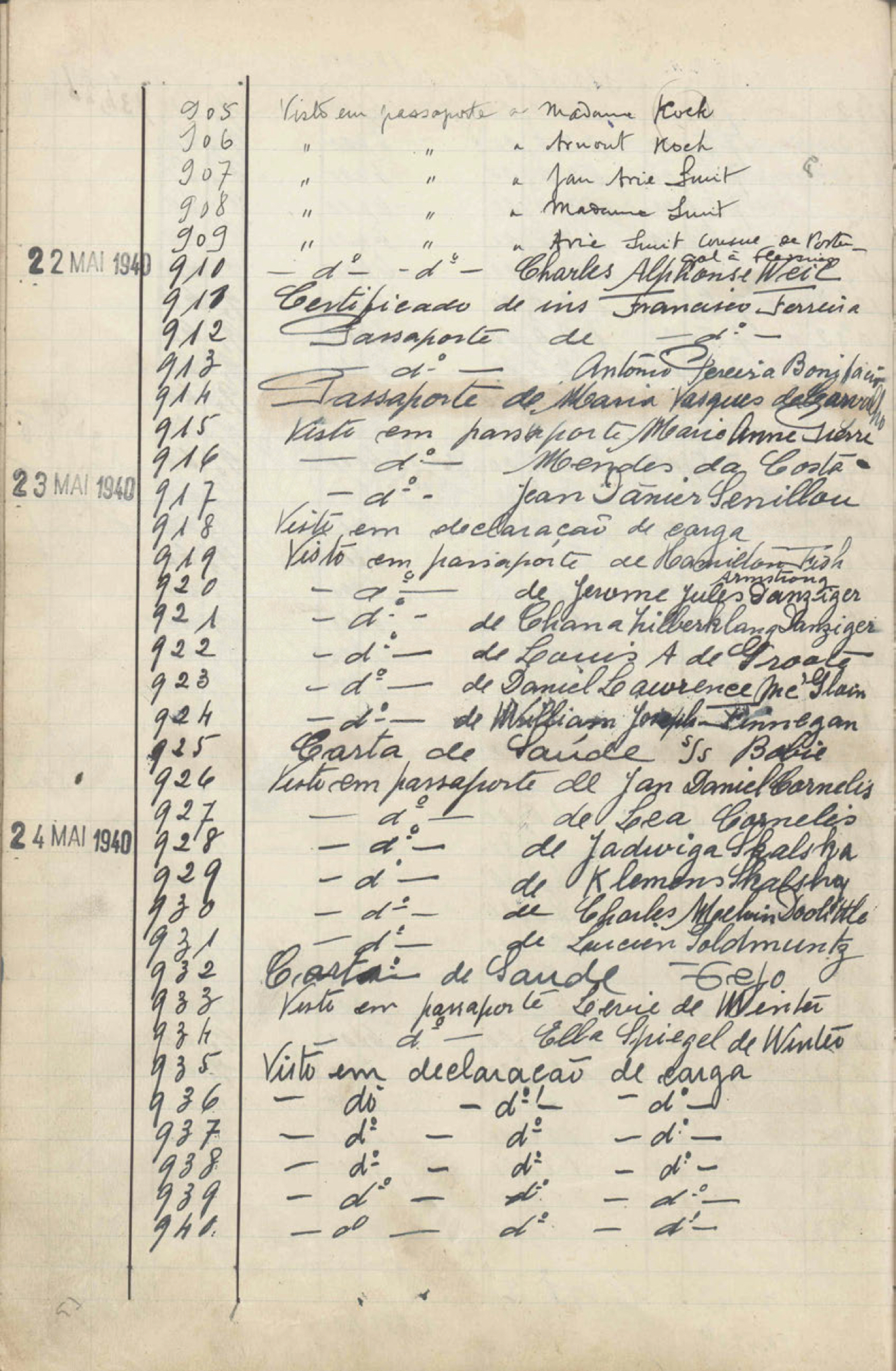 Page of Sousa Mendes Visa Registry Book listing this family and others - Courtesy of the Ministry of Foreign Affairs archives, Lisbon