Bacaleinic
Visa Recipients
BACALEINIC, Ancel

P

A


Age 42 | Visa #2137
BACALEINIC, Leon

P

A

T


Age 11
BACALEINIC, Mase

P

A


Age 5
BACALEINIC, Sura née LEVINE

P

A


Age 38 | Visa #2138
BACALEINIC, Thamar

P

A


Age 16
About the Family
The BACALEINIC family were granted visas by Aristides de Sousa Mendes in Bordeaux on June 18, 1940, after having been explicitly denied visas by Salazar, the Portuguese head of state.
They crossed into Portugal, where they resided in Curia. The children Leon, Mase and Thamar sailed on the Nea Hellas from Lisbon to New York in October 1940. The parents Ancel and Sura sailed on the Serpa Pinto from Lisbon to New York in March 1941.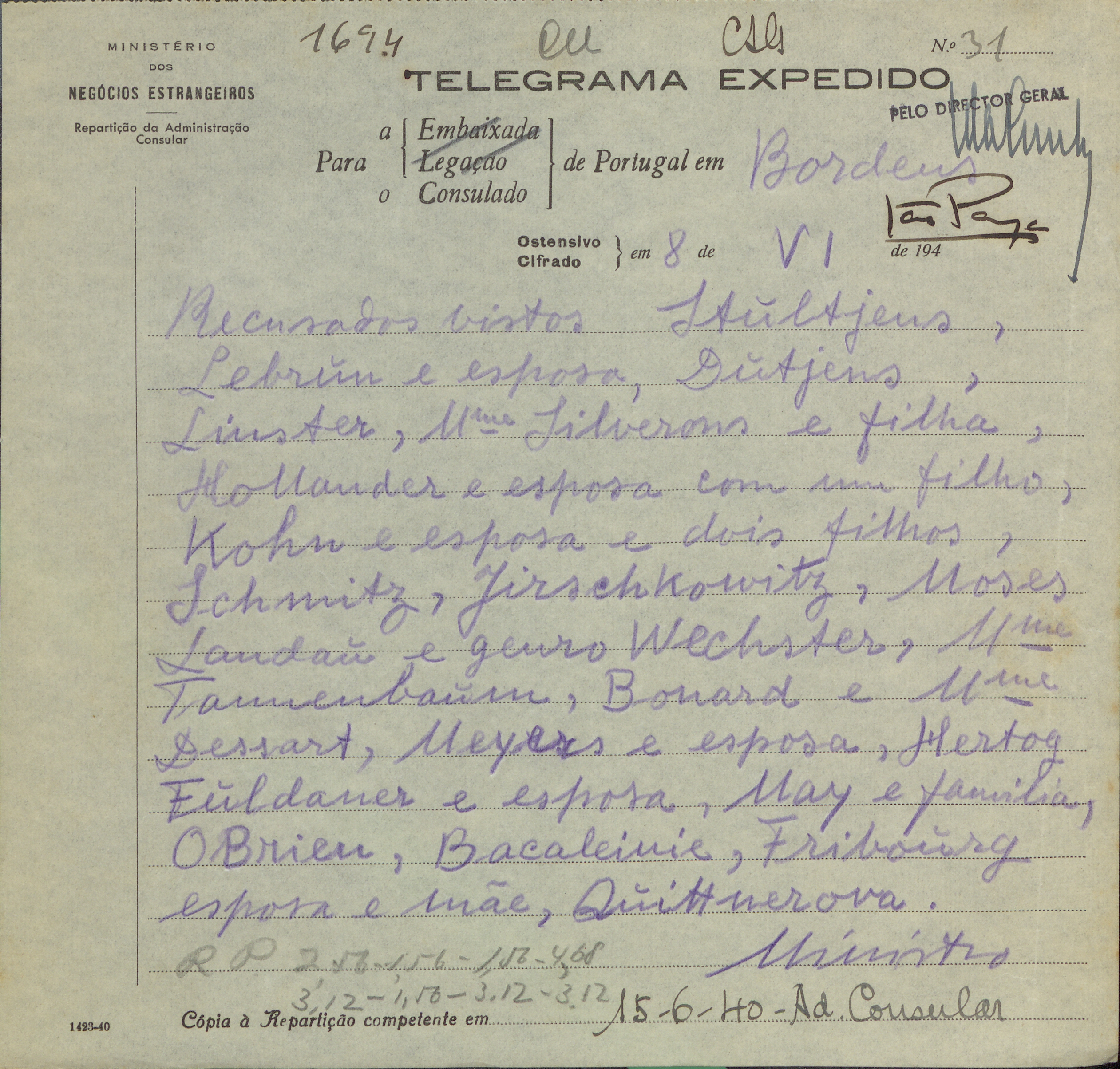 Telegram from Salazar denying visas to this family and others - Courtesy of the Ministry of Foreign Affairs archives, Lisbon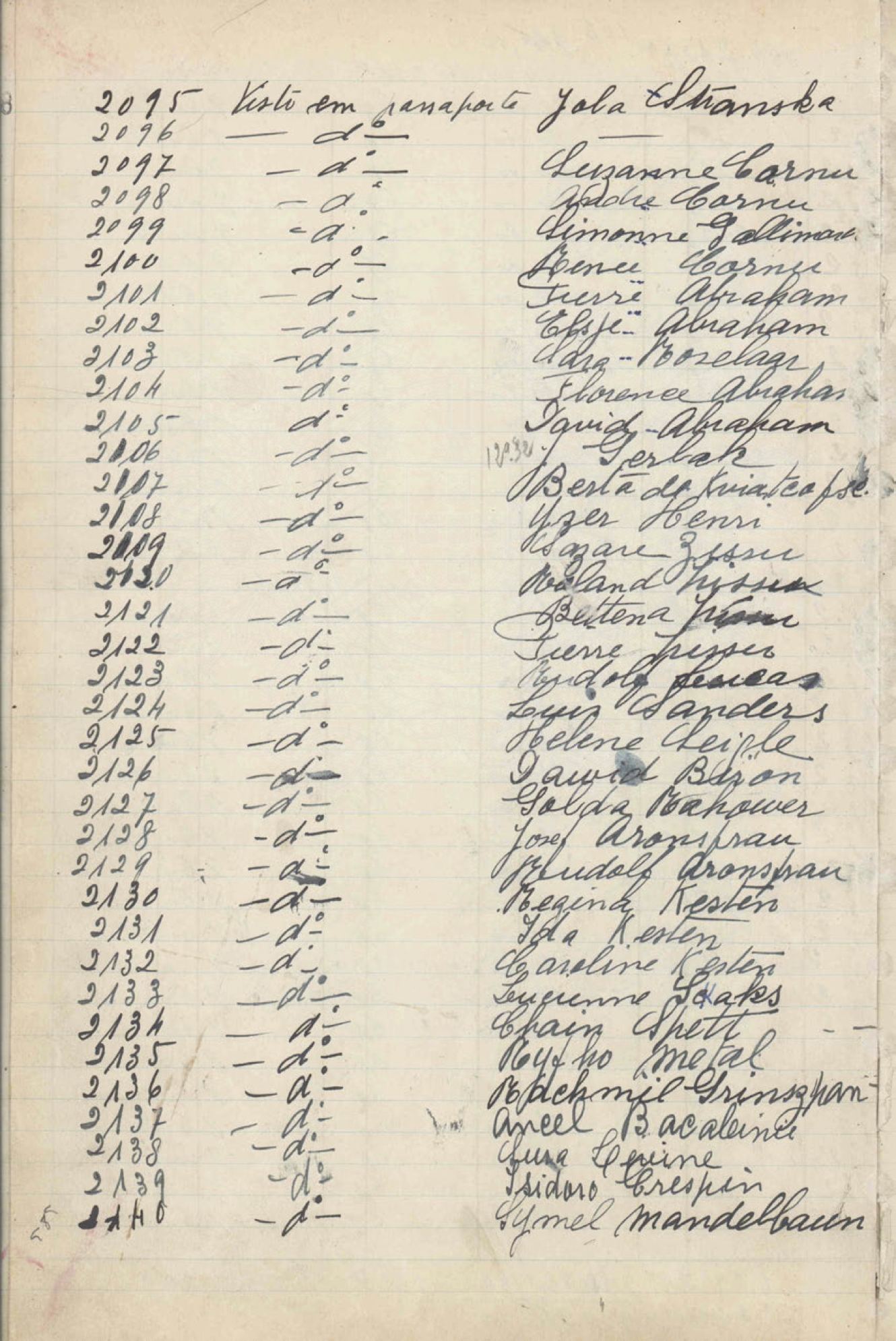 Page of Sousa Mendes Visa Registry Book listing this family and others - Courtesy of the Ministry of Foreign Affairs archives, Lisbon
Testimonial of Leon Back, né Bacaleinic
ANTWERP TO LISBON: Memoirs of an 11-year-old boy
25 February 2016
Of course much in the intervening 76 years has been forgotten, but I honestly don't think I remembered any more 50 years ago.  Or at least that's what my wife, Ruth, tells me.  It's always been the same story.

Lady Luck was on our side, May 10th, 1940, when it became obvious that we would have to leave our apartment at Avenue Plantain Moretus and flee with what we could carry before the German army arrived.  A neighbor in our building had ordered a taxi that morning but was unable to travel that day due to illness.  We were offered the taxi!   

The first night we spent in Kortrijk (Courtrai), and it was only when we arrived there that my father realized he'd left behind the bulk of the diamonds he'd been working on.  He had removed them from the safe, placed the bag on a table and then forgotten it in their haste to leave.  Although they'd traveled a relatively short distance, going back to the apartment was out of the question.  It must have been a devastating decision to have to make, but the blitzkrieg had begun and we only thought of heading south as fast as possible.

Next morning the same taxi took us to Veurne (?) on the coast, where we waited 3 days to cross into France.  There were throngs of refugees, the roads were clogged and the French were reluctant to let anyone through.  Amazingly we met up with my aunt and uncle, the Tarnaruders, who had their own car, already full with their two children, Sonia and Boris, and personal belongings.  Still, when our turn came, my mother, sister and baby brother managed to squeeze in too.  I walked through the barrier with my father and Boris and we got to France ahead of those in the car!  That night we all stayed in Boulogne.

The following day the Tarnaruders went their own way, and my father managed to find an empty 18-wheeler with a driver.  Room for several families and we all piled in.  That night was spent in Rouen.  So far progress had been pretty slow, but the next day we took a train to Bordeaux putting many more kilometers between us and the invading army.  Guess who shared our carriage … Madame Pétain!

Now we had a long wait to get the necessary visas to travel through Spain to Portugal.  We stayed in a hotel in Arcachon on the coast for 3 weeks, and each day my father would go into Bordeaux to visit the Portuguese consulate.  The Spanish would not open their borders to refugees unless they had visas to enter Portugal.  In other words, they didn't want anyone staying in Spain.  One has to wonder at the attitude of both the French and Spanish governments but, alas, we're seeing the same scenario played out today with the mass exodus of people from the Middle East.

The bravery of Aristides de Sousa Mendes cannot be overstated.  The Portuguese dictator, Salazar, had forbidden his consul in Bordeaux to issue any more visas to people fleeing Europe.  And in a telegram to this effect, he listed a dozen families by name who should under no circumstances be allowed into Portugal.  The Bacaleinics were on this list.  Mercifully, Sousa Mendes refused to obey these orders and continued to issue 3,000 visas before he was recalled to Portugal to face punishment by the regime.  Here was a man who saved more lives than Schindler being treated as a common criminal in his own country.  Once again Lady Luck was looking out for us and, thanks solely to him, we were all issued visas on June 18, 1940.

Mid June we set off for Bayonne and the Spanish border, and here we waited another week.  Finally we were all loaded into a cattle car marked "Quarante hommes ou huit chevaux" ("Forty men or eight horses") to cross over from Hendaye.   Fortunately, this was not a very long journey and we soon found ourselves on a bus driving through the mountains.   Looking at a map of Spain, I can only guess at the route, but we probably drove through Burgos, Valladolid, Salamanca and Cuidad Rodrigo to the Portuguese border at Vilar Formoso.

Here we were greeted by the American Red Cross who served us coffee and donuts!  I shall never forget that.  From Vilar Formoso we continued on to Curia, a resort town where many refugees were housed waiting for their passage to America.  For us, it was a 3-month wait.  My father, missing his customary nightly shot of vodka, persuaded a local pharmacy to sell him pure alcohol which he flavored with lemon and who knows what else.  A semblance of normalcy in a very uncertain time.

Finally, the big day approached.  The SS Nea Hellas was due to sail from Lisbon on October 4, 1940.  The last leg of an incredible journey, for us children at least.  My parents were not able to come with us because they had trouble getting visas to enter the United States.  We were all born in Belgium which had a generous quota, but it was uncertain which country my parents had been born in at the time of their birth.  Romania or Russia?  Fortunately, my uncle, Jake Levine, was a lawyer in Chattanooga, TN, and knew of Cordell Hull who was Secretary of State at the time.  After much back and forth, my parents were issued visas and arrived in New York City on the SS Serpa Pinto March 30, 1941.  A six-month wait.  One can only imagine the mixed emotions when my parents said goodbye to their children, hoping we would arrive safely and not knowing if, or when, we'd all be reunited.  My father gave me his beret and a $5 bill as we embarked.  I still have the beret, but not the $5 bill!

In the meantime, my sister, Tamara, and my brother, Max (now Michael), and I arrived in New York City on October 13, 1940.  We were met by two bachelor uncles, Alec and Oscar Levine, who had found an apartment for us all at 87th and Riverside Drive.  I was put into PS87 and Tamara went to Julia Richmond High School.  I have no memory of who was looking after 5-year-old Michael.  I quickly discovered that the best way to learn English was at the movies and I'm sure my $5 bill went a long way in those days.  PS87 was not much fun so I told my teachers my family was moving to Tennessee and spent mornings in the pool in our building and afternoons at the cinema!

After 2 months of looking after us, my uncles had probably had enough.  One day they showed up in a car, as I recall a Buick, and drove the three of us down to live with relatives in Chattanooga.  I was promptly enrolled at the Baylor Military Academy which made me think longingly of PS87.  With very little English and wearing short pants, I was an easy target for teasing, but had to stay through the academic year even though my parents were now in NYC.

So there you have it.  We were certainly one of the lucky families.