Balinski/Liefeldt/Rajchman
Visa Recipients
BALINSKA, Irena Maria née RAJCHMAN

P


Age 30
BALINSKI, Michal Ludwik Ignacy Rafal

P

A

T


Age 6
LIEFELDT, Lucja née BOJANCZYK

P


Age 57
RAJCHMAN, Ludwik Witold

P


Age 58
RAJCHMAN, Maria Klotylda née BOJANCZYK

P


Age 55
About the Family
The RAJCHMAN couple, their daughter Irena BALINSKA, their grandson Michal BALINSKI, and Maria's sister Lucja LIEFELDT were in Bordeaux, France on June 15-17, 1940. They presumably obtained Portuguese visas from Aristides de Sousa Mendes during that time. In addition, they received Spanish visas from Eduardo Propper de Callejón, another rescuer who defied orders.
All but Lucja crossed into Spain and then Portugal. Ludwik RAJCHMAN traveled on the Dixie Clipper seaplane from Lisbon to New York in July 1940. Maria RAJCHMAN traveled on the vessel Excambion from Lisbon to New York with her daughter and grandson during the same period.
Lucja LIEFELDT arrived at the French/Spanish border and was turned back. She returned to their home in La Sarthe and ended up in Ravensbruck, which she survived.
Ludwik RAJCHMAN was a Polish medical doctor and bacteriologist. He founded the Polish Institute of Hygiene in 1918, directed the League of Nations Health Organization from 1921 to 1938 and, after the Second World War, was the co-founder and Chairman of UNICEF.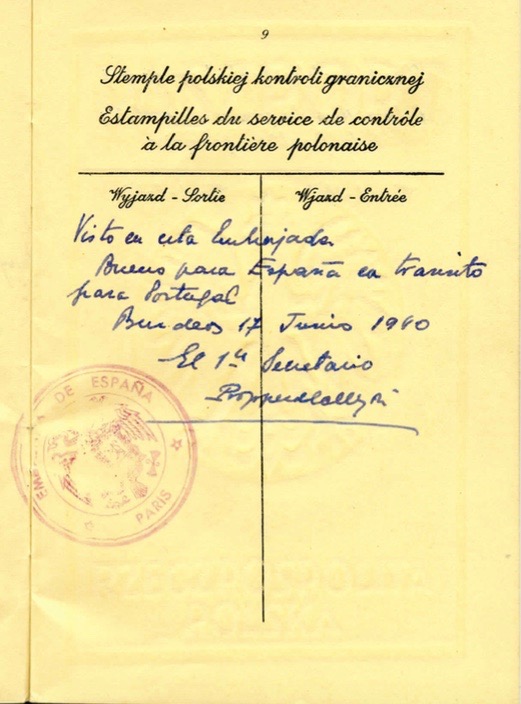 This Spanish visa was issued in Bordeaux to Michel BALINSKI by Eduardo Propper de Callejon, Righteous Among the Nations
Testimonial of Marta Balinska, daughter of Michel BALINSKI
Excerpted from For the Good of Humanity: Ludwik Rajchman, Medical Stateman, 1995
It was in Bordeaux that Muhlstein, with his wife, Diane de Rothschild, and their three young daughters, caught up with them. Everybody -- Zaleski, Mandel, Weygand, Pétain -- seemed to be converging on this city, which had taken on a "lugubrious" aspect. On June 16, Mowrer learned of Mandel's arrest.  "This time, we have to leave," Muhlstein, who had been hesitating, noted in his diary, before going on to Biarritz where the Rajchmans had preceded him.
On the day de Gaulle made his historic appeal from London, the "caravan of families," as Muhlstein referred to the group, had reached the Spanish border.  But there, Rajchman's sister-in-law, Lucja Liefeldt, was refused entry:  she had only a Polish passport and no diplomatic papers.  She turned round and made her way back to Chenu where she lived until 1942, when she was deported to Ravenbrück.
The Rajchmans went on to spend several days in Madrid, a city that was "calm for the moment," Rajchman remarked in his diary.... They then headed towards Lisbon, spending the night in Merida.  The next morning, Rajchman's six-year-old grandson woke up covered in red spots.  Panic stricken, Rajchman diagnosed his illness as smallpox.  How were they ever going to cross a border sealed from all infectious diseases?  The architect of the Polish cordon sanitaire decided to hide the boy under a blanket in the back seat of the car, and was forced to hold his breath while the border guards counted, one by one, the sheep in a flock that seemed unending.  The child was hospitalized in Lisbon where he was found to be suffering from nothing more than a particularly acute case of measles.
In the Portuguese capital, the atmosphere was tense.  "All of Europe is here, on this small tip of land where the continent ends," Muhlstein wrote.  "One shove from the Germans, and everybody is thrown into the sea."  Rajchman and Muhlstein spent all their time trying to reserve places on the Pan American Clipper leaving for New York.  Their families were to follow by boat....  On the eve of their departure, July 3, it was learned that the Americans had canceled all visas issued earlier than June 6. The distress among the new refugees was "terrible" but, happily for Rajchman and Muhlstein, theirs were dated June 17.