Korngold/Turk
Visa Recipients
KORNGOLD, Efraim

P

A


Age 45 | Visa #2062
KORNGOLD, Elias/Eric

P

A

T


Age 19 | Visa #2064
KORNGOLD, Leon
Age 14
KORNGOLD, Sidzia née PLUCZENIK

P

A


Age 48 | Visa #2063
TURK, Fanny

P

A


Age 32 | Visa #2061
About the Family
The KORNGOLD-TURK family received visas from Aristides de Sousa Mendes in Bordeaux on June 18, 1940.
They crossed into Portugal, where they resided in Porto. They subsequently traveled through Mozambique, the Belgian Congo, South Africa, and Cuba before emigrating on the vessel Oriente in March 1941 to the United States, where they settled and lived in Philadelphia.
Fanny TURK, daughter of Sidzia, sailed from Lisbon to Philadelphia in October 1945.
The family members received U.S. citizenship in 1947 and subsequently returned to Belgium.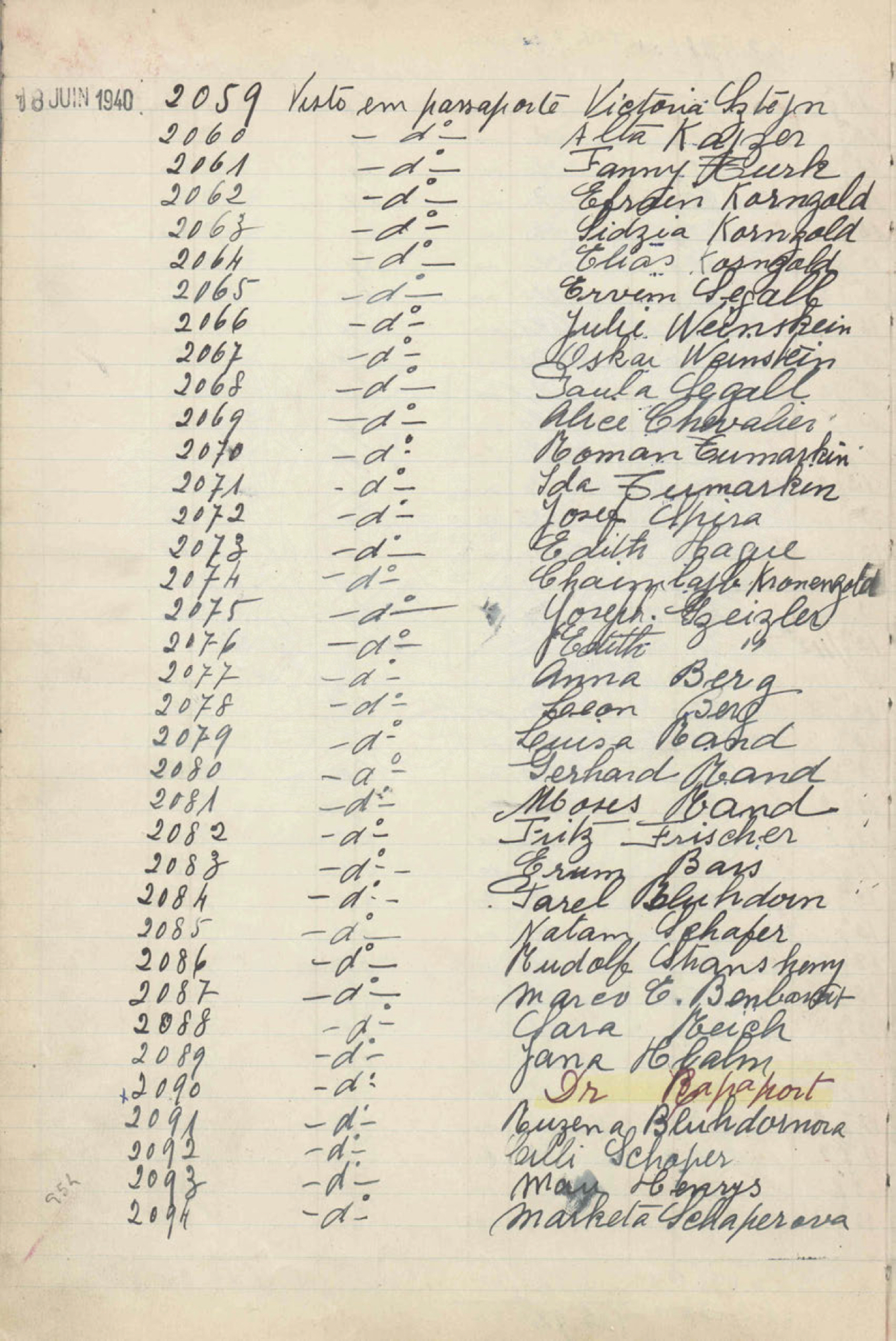 Page of Sousa Mendes Visa Registry Book listing this family and others - Courtesy of the Ministry of Foreign Affairs archives, Lisbon
Testimonial of Eric KORGOLD
Letter to Reese Erlich, November 18, 1987
We fled Antwerp, Belgium during the invasion in May of 1940 and found our way to Bordeaux, France.  As the Germans were advancing towards Bordeaux, my late parents, along with tens of thousands of other refugees, were trying to find countries willing to let them enter.  The hunt for visas was started.  The Haitian Consul was giving out, at a small fee and without authorization from Port au Prince, immigration visas to Haiti.  This visa, however, was enough to enable us to try and get transit visas.
My parents then went to the Portuguese consulate in Bordeaux.  My late mother somehow was able to gain entry to it and witnessed the mob scene.  She watched Consul Mendes at work, stamping hundreds of passports with transit visas, answer phone calls, receiving visits from diplomats, etc.  After a while, she caught on to the work routine of Consul Mendes and began helping him by handing to him the appropriate stamps, etc., thus speeding up the process.  My mother did this for several hours and heard the statement which Consul Mendes made which I noted in my letter to his son.  The Consul finally asked my mother to give him our family's passports, which he promptly stamped.
The next day, my parents went to the Spanish consulate ahd again, were fortunate to obtain transit visas.
We again saw Consul Mendes in Bayonne a day or two later.  We had to go there in order to obtain a French exit visas.  Consul Mendes was sitting in his car and having been recognized, was being handed passports from frantic refugees.  He wrote out transit visas in long-hand and thus, even at this late hour, was able to save additional lives.
Our family eventually found its way to the United States via the Belgian Congo, Angola, Mozambique, South Africa and Cuba, arriving here in March of 1941.
Were it not for the courageous actions of Consul Mendes, we probably would have been extermintated by the Germans.