Kronacker/Tetzeli
Visa Recipients
KRONACKER, Blanca Marie née DEYM

P


Age 36
TETZELI, Bedrich

P


Age 9
TETZELI, Jan Pavel

V

P

T


Age 7
TETZELI, Ludvik

P

A


Age 38 | Visa #1754
TETZELI, Maria Antonia Sophia née DEYM

P

A


Age 40 | Visa #1753
About the Family
The TETZELI family received visas from Aristides de Sousa Mendes in Bordeaux on June 16, 1940.
They crossed into Portugal, where they resided in Estoril. From there they travelled to Vigo, Spain where in July 1940 they boarded the vessel Marques de Comillas to Havana, Cuba.
In December 1943 Blanca Marie KRONACKER sailed on the Queen Elizabeth from Gourock, Scotland to New York.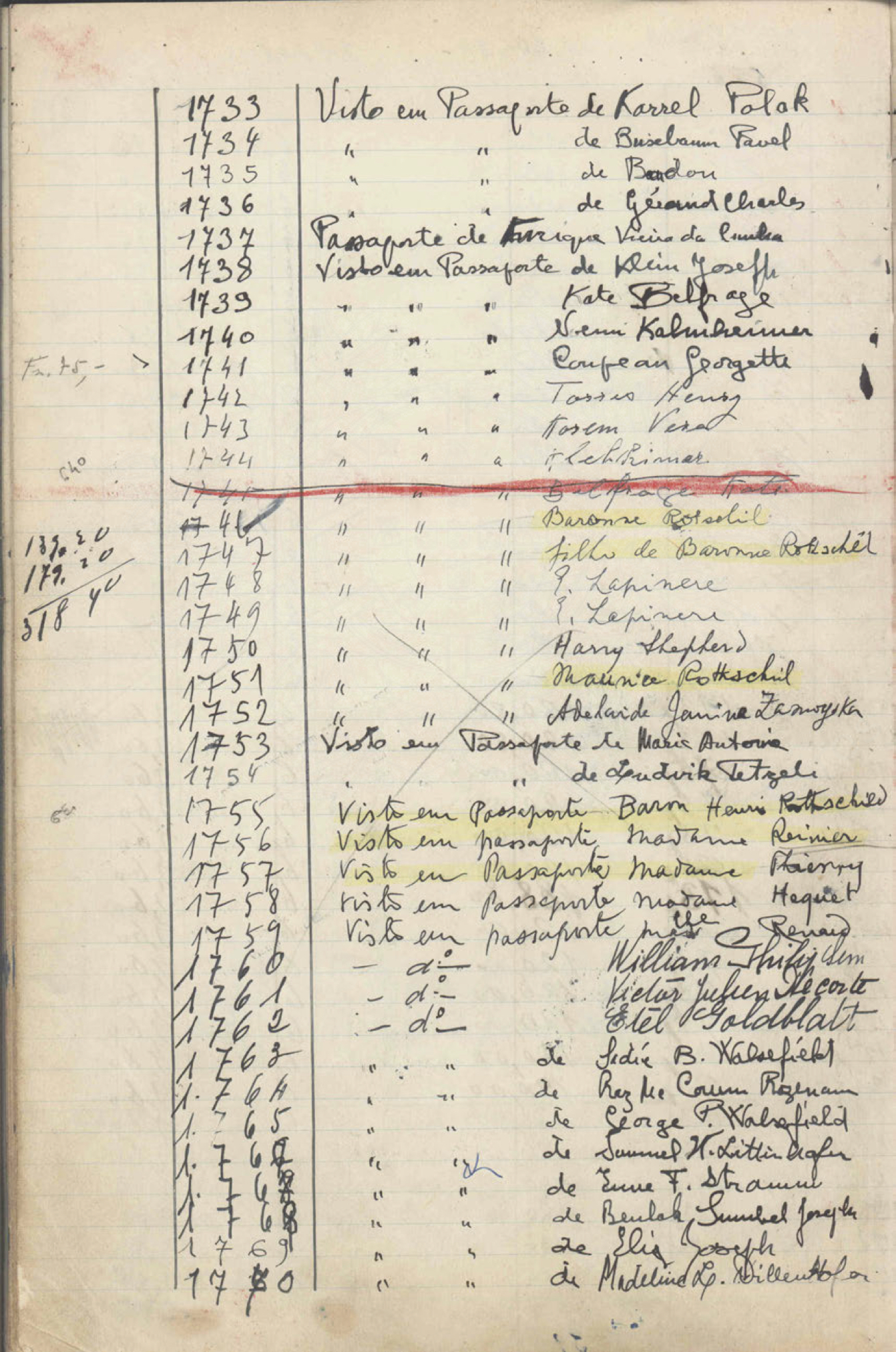 Page of Sousa Mendes Visa Registry Book listing this family and others - Courtesy of the Ministry of Foreign Affairs archives, Lisbon
Testimonial from John Tetzeli
On May 10, 1940 we were living in Konigshof, a suburb of Antwerp, Belgium. That day the Nazis bombarded and we fled. My parents were Czech and strongly opposed to Nazism. We drove through France and arrived to Bordeaux by late May or early June, where in the outskirts we rented a farmer's house. All four family members were traveling along: father, mother, my brother, Frederick (Bedrich in Czech) and myself (Jan Pavel in Czech).
We crossed the border from France into Spain at Hendaye. We then spent a day in San Sebastian and drove on to Madrid, where Edith, the youngest sister of mother, lived married to a Dutch diplomat stationed there. We visited briefly. On the road to Portugal we almost did not make it, as a mechanic in Spain had made a faulty connection in our 1938 Chevy convertible that started a fire in the engine. Father took care of it by removing the claxon. We arrived to Estoril where we stayed at the Penso Panorama. My brother and I enjoyed the beach while father was busy finding ways for us to leave Europe. The Marques de Comillas took us from Vigo, Spain to Havana, Cuba in July 1940. I remember the single black smokestack, and I believe at that point in time the ship had a big Spanish flag painted on the hull, in order not to be mistaken by the Nazi U-boats for an enemy.
We had been able to leave Czechoslovakia in 1938 prior to the Nazi takeover. My parents, from Czechoslovakia, cherished the freedom we had briefly enjoyed in that model democracy and were staunchly anti-Nazi. I'm certain the visa granted just in time saved our lives, and I can but give a very belated but heartfelt thanks to Mr. Sousa Mendes and congratulate you for keeping his humanitarian legacy alive.