Kruger
Visa Recipients
KRUGER, Chana/Anna

P

A


Age 14
KRUGER, Cypra/Cilla

P

A


Age 38
KRUGER, Jacob

V

P

A

T


Age 9
KRUGER, Rabbi Chaim Hersz

P

A

T


Age 36 | Visa #1605
KRUGER, Rebecca/Regina

P

A


Age 11
KRUGER, Sara

P

A


Age 6
KRUGER, Zysla/Giselle

P

A


Age 12
About the Family
The KRUGER family received a visa from Aristides de Sousa Mendes in Bordeaux on June 15, 1940 after having been explicitly denied by Salazar, the Portuguese head of state.
Rabbi Chaim Hersz KRUGER and Aristides de Sousa Mendes met and became friends in Bordeaux in May of 1940. Sousa Mendes offered a visa to KRUGER and his family, but KRUGER, a Polish rabbi who had been living in Belgium, refused to accept it until every single refugee in Bordeaux received one too. It was this act of moral courage by Rabbi KRUGER that spurred Sousa Mendes to attempt the unthinkable: saving the mass of humanity outside his window.
The family crossed into Portugal and boarded the vessel Nyassa in June 1941 bound for New York.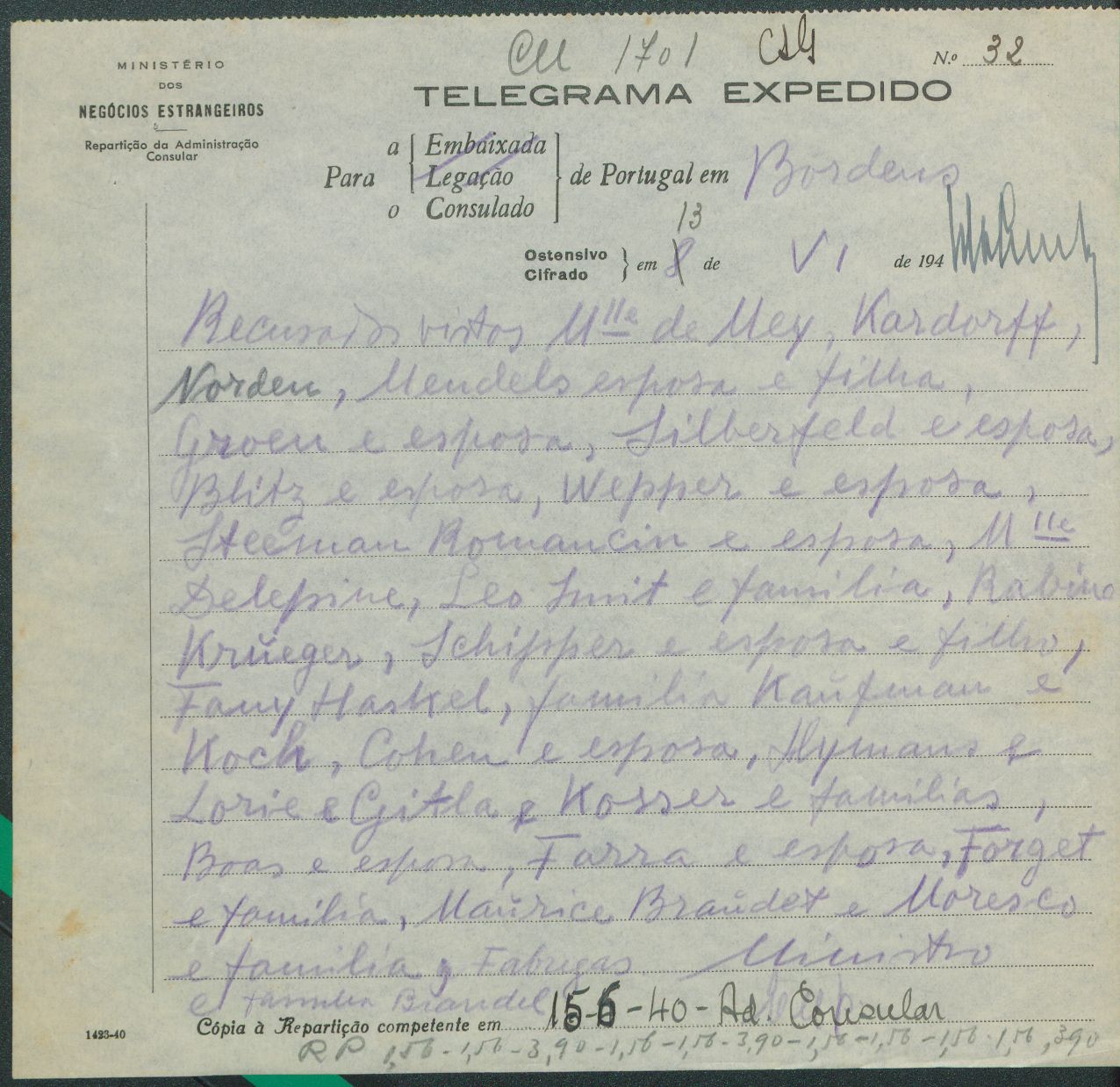 Telegram from Salazar denying visas to this family and others - Courtesy of the Portuguese Ministry of Foreign Affairs archives, Lisbon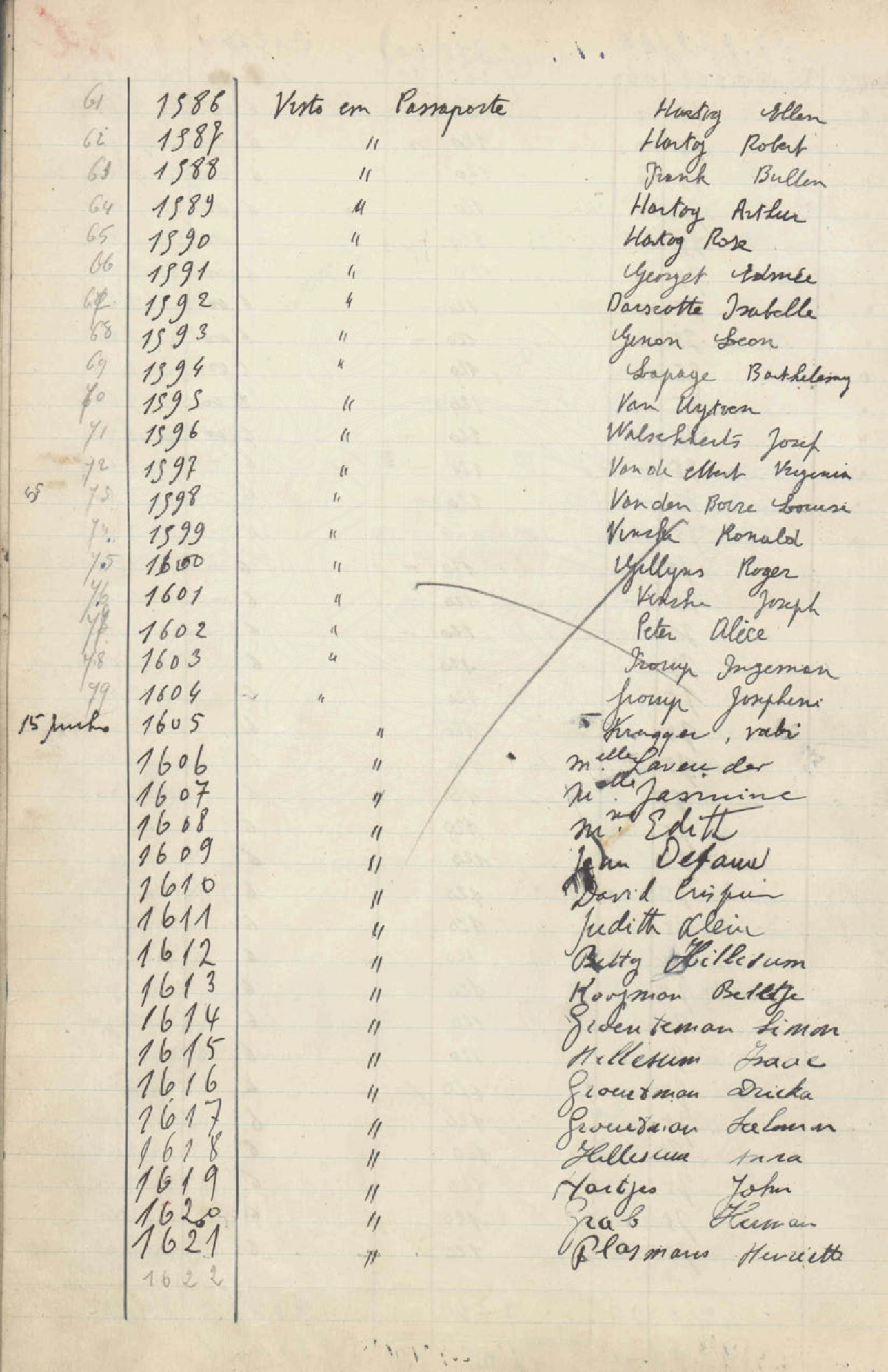 Page of Sousa Mendes Visa Registry Book listing this family and others - Courtesy of the Ministry of Foreign Affairs archives, Lisbon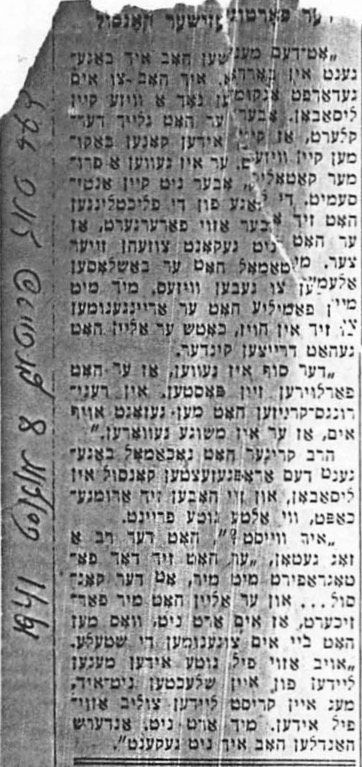 Interview with Rabbi Kruger in Yiddish newspaper "Der Tog," New York, August 8, 1941
Testimonial of Rabbi Chaim Kruger
Published in Yiddish newspaper "Der Tog" in New York, August 8, 1941
The Portuguese Consul
"I met this person in Bordeaux. I had to see him for a visa to Lisbon. But, he immediately declared that no Jews may receive a visa. He was a devout Catholic, but not an antisemite. However, the situation of the refugees had worsened, and he could not witness their misery. He suddenly decided to give visas to all of them. He took me and my family into his house, in spite of him having 13 children. The end was that he lost his position. Among government circles it was said of him that he had become crazy."
Rabbi Kruger met again the dismissed consul in Lisbon, and they embraced each other in the manner of old friends.
"Do you know?" the rabbi said, "he took a snapshot photo of me, that very consul... and he personally assured me that he does not care that they took away his position from him. "If so many Jews are permitted to suffer from one evil non-Jew, then one Christian is permitted to suffer for so many Jews. It does not matter to me. I could not have acted otherwise."
Testimonial of Rabbi Chaim Kruger
1966
This man was a Righteous Among the Nations. He also told me that he was a descendent of the Jews who had been forced to convert in the Middle Ages.
We had escaped from Brussels to France together with thousands of our brethren who had been expelled from France and Belgium that were already under the rule of the cursed Nazis. After many upheavals and troubles caused by Allied bombings, we reached Bordeaux. We found thousands more of our brethren in the streets, camping on the square next to the synagogue. In the evening a big car driven by a chauffeur arrived and stopped next to us. The diplomat stepped out and talked to me. He invited me to come with my wife and five children ... to his home. When we got to his home he told me that he was the consul-general of Portugal in France and that he had 13 children. He offered us to use all the comforts of his home, but I realized that I couldn't do that because I couldn't part from all the people who were out in the streets, and also because the house was filled with [Christian] icons, which terrified our children who refused to eat. I thanked him for his kindness. In the morning we joined the people outside and then I returned to his place and explained that there was only one way to help us -- by giving us visas to Portugal.
As we were talking, the vice-consul heard what we had said in the French language, and warned him not to fall in the trap of granting visas. He said it in Portuguese, but to no avail. Mr. Mendes told me that he would give visas to my family and myself, but that he would have to seek his ministry's permission for the other refugees. I tried to influence him not to listen to his deputy, and then he said that I could announce to the refugees that anyone who wished to have a visa could receive one. I immediately announced it to the refugees. All the refugees got visas and he sat all day long and signed them. I helped him in putting the stamps in the passports and then he would sign. He didn't eat nor drink the entire day until late in the night, and within a short time gave thousands of visas until the perpetrators came closer and we had to escape through Spain. When we reached the Spanish border the Portuguese Foreign Ministry had already decreed that the visas the consul had issued were worthless. It was on the eve of the Sabbath [Friday evening]. We asked the border guards to let us cross the border in transit through Spain. While we were standing there, begging the border guards, the consul appeared and told us to wait while he would talk to them. An hour or two later it was he who opened the gate for us...
I went to Lisbon with my family, and there Mendes visited us. He told us that he had been fired because of his help, but that he was content, and if thousands of Jews were suffering because of one Catholic, one Catholic could suffer for all the Jews. He said that he accepted it with love.
Testimonial of Rabbi Jacob Kruger
2013
All too often, the headlines cry out a senseless killing. Other tragic murders are committed ostensibly in the name of G-d. Sousa Mendes stands as a beacon of light in such days of darkness. He recognized the importance of every single being, created in the image of G-d, regardless of nationality and creed. He could have led a life of honor and wealth. Instead, he knowingly sacrificed his future for the sake of higher ideals.
Through his example, Portugal saved countless refugees fleeing from the terror and destruction of WWII. His lifelong saying to my late father Rabbi Chaim H. Kruger, "I would rather stand with G-d against man than with man against G-d," remains an inspiration for all of us.
It is to the eternal glory of our family that my father Rabbi Kruger was instrumental in inspiring the Hon. Sousa Mendes to use his good offices to save so many innocent people. Initially, Mr. Mendes offered to save my father and our immediate family by issuing us visas to Portugal. But when my father insisted that he would only accept the offer if it was also extended to other refugees, Mr. Mendes realized that the issue was much wider than simply helping a friend or one Jew.
To the eternal gratitude of untold numbers of people living today, descendants of those he saved, Sousa Mendes faced the challenge head on, without compromise and with all his strength. Sousa Mendes so truly deserves the belated honors now being bestowed on him. May the memory of his courage and self-sacrifice be an inspiration for the whole world to the end of time.