Kubicek
Visa Recipient
KUBICEK, Andrej/Andor

P

A

T


Age 43 | Visa #2463
About the Individual
Andrej KUBICEK received a visa from Aristides de Sousa Mendes in Bordeaux on June 20, 1940.
He crossed into Portugal and in March 1941 sailed from Lisbon to New York on the vessel Serpa Pinto.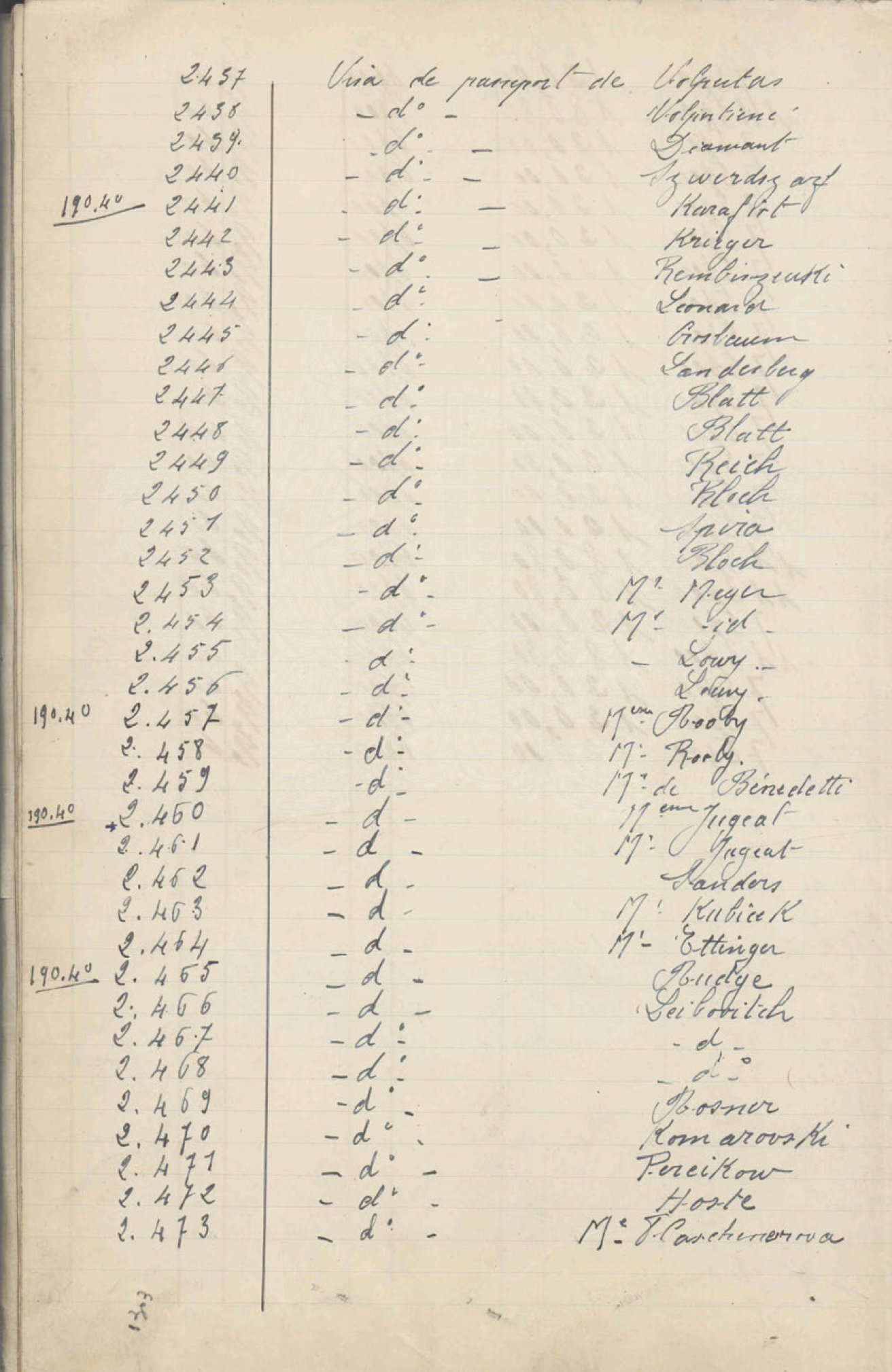 Page of Sousa Mendes Visa Registry Book listing this family and others - Courtesy of the Ministry of Foreign Affairs archives, Lisbon
Testimonial of Peter KUBICEK
excerpt from memoir entitled Memories of Evil — Recalling a World War II Childhood
In August, 1939, as the clouds of war were gathering over Europe, my father [Andor Kubicek, later known as Andrew] left for the World Zionist Congress in Geneva, Switzerland, as a delegate from Slovakia. While there, Germany attacked Poland and World War II broke out. My father's first reaction was to rush back home to us, but friends persuaded him that he could help us more if he stayed in Switzerland and tried to get us out of Czechoslovakia. He tried his best, but the Swiss blocked all his efforts to rescue us and denied us entry. After a few months they even kicked my father out of their country.
My father moved on to Paris. With the German army approaching, he was forced to move further, to the south of France. From there he tried to enter Spain. That country's fascist government, however, did not allow in any refugees without a proper visa and visas were next to impossible to obtain. At one point of entry, though, my father came upon a heroic Portuguese consul, a man by the name of Aristides de Sousa Mendes, whose name should be celebrated as one of those rare righteous gentiles, who stamped his country's visa into any passport placed in front of him, waiving all fees. This allowed my father passage through Spain, into Portugal. Spain was ruled by Francisco Franco, a dictator who greatly admired Hitler and his ideas. Portugal's ruler, Antonio Salazar, was also a dictator and, though not exactly eager to have his country overrun refugees, he showed compassion once they arrived there. His compassion, though, had limits. Sousa Mendes was ultimately stripped of his authority and recalled to Portugal. When he criticized the government, and continued to defend his deeds on humanitarian and religious grounds, he was fired from his diplomatic post and eventually died in poverty.