Landsberg
Visa Recipients
LANDSBERG, Carlota Amalia née ADLER

P

A

T


Age 40 | Visa #1215
LANDSBERG, Edith Carlota

P

A

T


Age 16 | Visa #1216
About the Family
Carlota LANDSBERG and her daughter Edith received visas from Aristides de Sousa Mendes in Bordeaux on June 5, 1940.
They crossed into Portugal, from where they traveled to Buenos Aires on the ship Argentina in August 1940. They then sailed from Buenos Aires to New York on the vessel Uruguay in May 1941.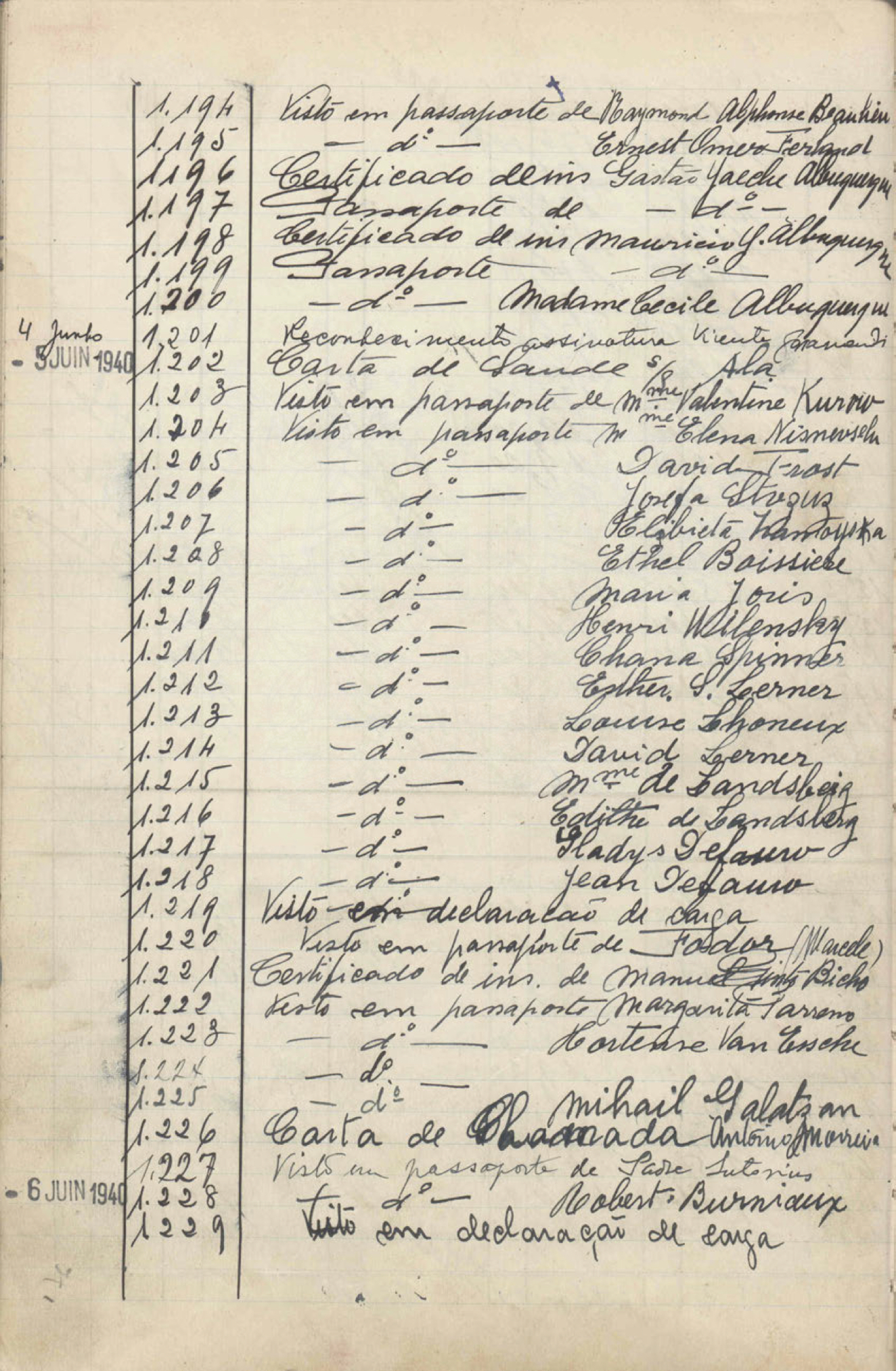 Page of Sousa Mendes Visa Registry Book listing this family and others - Courtesy of the Ministry of Foreign Affairs archives, Lisbon
Article from the Chicago Tribune
http://articles.chicagotribune.com/2005-08-10/news/0508100158_1_marilynn-alsdorf-art-loss-register-picasso
Like many Jews in pre-WWII Berlin, Robert and Carlota Landsberg flourished in Germany yet felt as if they were outsiders in a potentially hostile place, said their grandson, Thomas Bennigson.  "Some of their apprehensions even predate the Nazis," recalled Bennigson. "There was the whole Jewish experience in Europe, of Jews wanting to assimilate but of not feeling fully a part of that society." 
A widow since 1932, Carlota Landsberg and her daughter, Edith, stayed in Berlin and endured the horrors of Kristallnacht, Nov. 9-10, 1938, when rampaging Nazis and their sympathizers burned synagogues, Jewish-owned businesses and homes in Germany and Austria.  "Immediately after that, people were telling them they better get out, for their own safety," added Bennigson, who often heard the story of the family's escape from Hitler's rapidly expanding empire. 
"They fled across Europe, to Switzerland, France, Spain and other places, and I was told there were many close calls," Bennigson said.  "At one point, they were in unoccupied France, and my mother [Edith] was detained on suspicion of being a German national. She had left her curtain open during a curfew, and the authorities suspected that she might be an agent, and that her leaving the curtain open might have been a kind of signal to the enemy. So, they were being held and feared that they wouldn't be released or get out before the Nazis got there. Finally they were let go and ended up in Argentina for a year, because that's where my grandmother's parents were."
The effects of the flight left emotional scars on Bennigson's mother and grandmother, he said, though each showed it differently. "My grandmother was a fearful person. She kept that experience around with her," Bennigson said, "not in the sense of being shy and withdrawn -- she was actually rather outgoing -- but it was very hard for her to trust people. She was a very fearful person. My mother was a very different person than my grandmother: timid, shy, but also fearful."
Carlota Landsberg and her daughter settled in New York in 1940 or '41. Edith Landsberg married Rudolph Bennigson, a Holocaust survivor who had lost his immediate family in the concentration camps. The two had one child, Thomas Bennigson.