Lesser
Visa Recipients
LESSER, Anna

A

T


Age 40
LESSER, Kurt

A


Age 44
About the Family
The LESSER couple, German Jews, were imprisoned in the Cours du Médoc internment camp in Bordeaux, France in June 1940. The entire camp requested and received visas from Aristides de Sousa Mendes.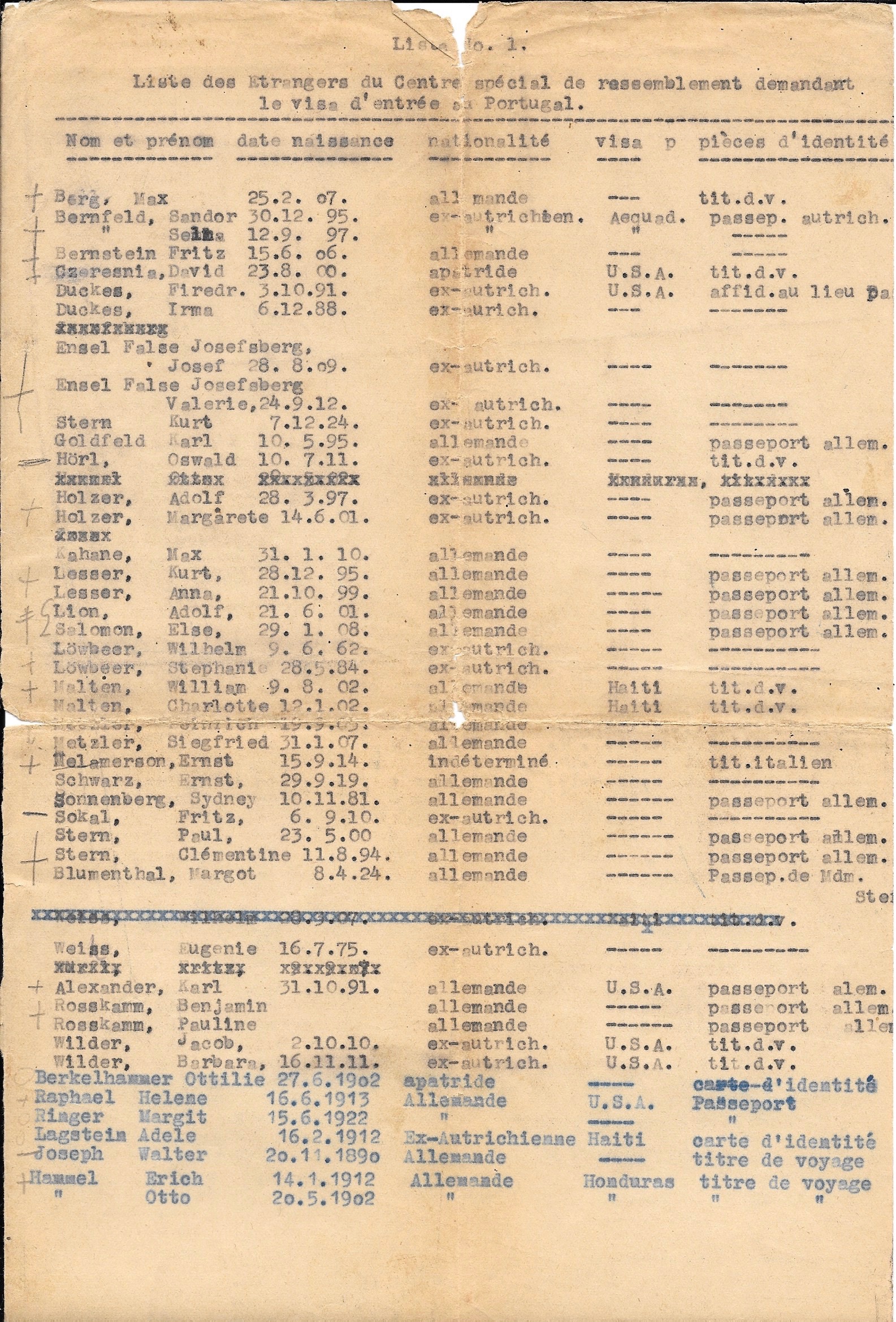 Partial list of internees at Cours du Médoc camp in Bordeaux requesting visas from Aristides de Sousa Mendes
Letter from Anna Lesser to Vera Laroche
Translation from German
Bordeaux, March 13, 1940
Dear Mrs. Laroche,
You are a poor fellow sufferer and I don't need to tell you what my husband and I are going through. I am very happy about the news that your Bobby [Ludwig Rosenberg] will hopefully return to Cours du Medoc in Bordeaux. He let me know that I can appeal to you and that you would do me the favor to help me. I have sent the letter known to you dated 4.3. and I haven't heard anything yet. Would it be too immodest if I ask you to inquire how things are going? And what did you reach for your husband?  I would like to stress the point that I have a sincere interest in the fate of your husband and that is why I am asking.
My husband is very desperate because he has nothing, in your case it seems and I hope things are going on. Stern is getting a new summons "convocation" to Uruguay, he is sad about that of course and I don't know where to start working for him. I have got to know you well enough to be able to form a certain opinion about you and I know that if you can you will really help me especially because you have a feeling for my state of mind which makes that you can understand me so well.
What are you doing yourself? How did you take your stay here? More than enough excitement for such a short time – one can say that for sure.  But what can we do, we are homeless and have to endure it! I look forward to hearing from you soon, especially I would like to know how you are and I send you my regards.
Your Anni Lesser
PS: Do you know that the Weil family left on Thursday the same week to Le Havre? Everything went so fast!!