Smolar
Visa Recipients
SMOLAR, Ber/Boris

P

A

T


Age 43 | Visa #1640
SMOLAR, Genia

A


Age 43 | Visa #1639
About the Family
The SMOLAR couple received their visas from Aristides de Sousa Mendes in Bordeaux on June 15, 1940.
Boris SMOLAR, chief European correspondent of the Jewish Telegraphic Agency, and his wife Genia were able to cross into Portugal and reached Lisbon on June 20, 1940. They sailed from Lisbon to New York on the vessel Manhattan in July 1940.
Boris SMOLAR had been targeted by the Nazis as early as 1936 while reporting from Berlin.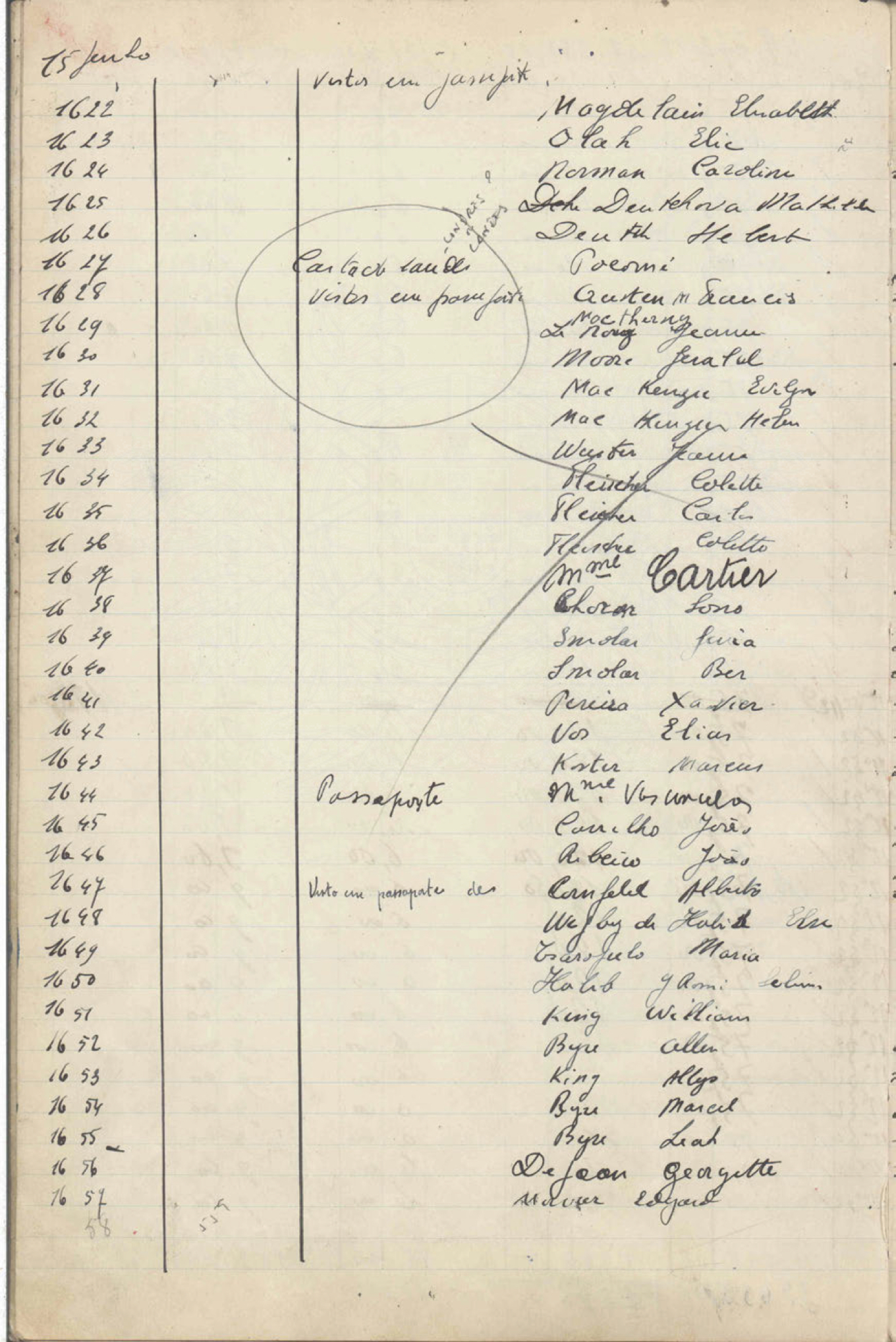 Page of Sousa Mendes Visa Registry Book listing this family and others - Courtesy of the Ministry of Foreign Affairs archives, Lisbon
Testimonial of Boris SMOLAR
Lisbon, June 27, 1940
With all exits virtually barred, the 400,000 Jews in France, whether in the German-controlled area or the unoccupied zone, feel trapped as though held in a huge concentration camp.
Those who, in the tragic exodus from Paris, considered themselves lucky to reach the interior, later by the thousands besieged foreign consulates in Bordeaux, hoping to escape from France before the armistice was signed, only to find that no neighboring country would accept them and Franco's Spanish Government would not even grant them transit visas.
They included some 40,000 Jewish refugees from Germany, many of whom had already tasted life in Nazi concentration camps and were awaiting emigration overseas. Now, with the armistice agreement providing for return of such German subjects as Berlin desires, the refugees tremble in fear of being turned over to the Gestapo.
Little less tragic is the plight of the French-born Jews whose families considered themselves Frenchmen for generations and were hardly conscious of their Jewishness. Despite their French passports they are refused visas by the Spanish consulate in Bordeaux.
I witnessed the exodus of some 50,000 Jews from Paris, precipitated by anti-Semitic agitation of fifth columnists, who, with the approach of the German army, began stirring up anti-Jewish feeling among the depressed Frenchmen in Jewish-populated sections around the Rivoli and Place de la Republique, blaming the Jews for the war.
The demonstrations caused the Jews who, not having means of evacuation, had intended to remain in Paris, to leave their homes and try to reach the city gates on foot. They ran as though spewed from a volcano, trudging for miles with babies in arms, sacks on their shoulders, afraid to look back to where they had left their homes and possessions.
Bombed on the road by Nazi planes, some succeeded in boarding evacuation trains dozens of miles from Paris. Others continued on foot, hoping to remain ahead of the Nazi tanks.
Later, when I entered Spain, I found thousands of Jews among those camped in the no-man's-land between the French frontier town of Hendaye and the Spanish town of Irun, hoping to be admitted into Spain, which they thought to be the only means of escape from the Nazis. Many had reached Hendaye on foot from Bordeaux, Angers and Tours. Others had made their way in refugee-crowded trains from Bordeaux while the trains were still running.
The majority, however, had spent all they had to reach the Spanish frontier by automobile, only to find the border hermetically closed. Among them were many formerly wealthy persons who drove to the frontier in luxurious limousines, ready to abandon them and proceed from the border by train.
But rich and poor were crowded together on the road in the hot sun, unable to cross the bridge which separates France from Spain. They obtained only pity from the Spanish border officials, who had strict orders from Madrid to keep the gates of Irun closed. Not very long ago, during the Spanish civil war, this bridge saw refugees streaming from the other side. Now the flood was pressing the other way.
At the time I was in Irun (June 22), only holders of diplomatic and American passports were able to pass without trouble, and the latter only if they had Portuguese visas. But there remained behind hundreds of thousands without the necessary documents, who included thousands of Polish, Hungarian, Rumanian, stateless and French-born Jews fleeing from France.
The Jews knew that the present Spanish Government especially was not inclined to give refuge to Jews. Those holding British and Palestinian passports sought to make their way to the nearby shores of Biarritz and St. Jean- de-Luz, from where small boats risked passage to England. None of these refugees even thought of taking the smallest amount of luggage. Eight hundred persons were only too happy to abandon their autos and embark on an 800-ton steamer taking British refugees from Biarritz to Plymouth.
On reaching Lisbon I found that the Portuguese Government had received an estimated 2,000,000 applications for visas, permanent or transit. Most of them came from Frenchmen, Belgians, Dutch and Poles in France who required Portuguese visas to pass through Spain. The applications must have included tens of thousands from Jews.
On the international train on which I reached Lisbon from Spain I witnessed heartbreaking scenes involving some passengers from France, who, after being permitted to cross Spain, were halted at the Portuguese frontier station because their Portuguese visas had been issued by consulates in France without approval of Lisbon.
Those with French currency found this not accepted for exchange at the border, the only acceptable foreign currency being American dollars. A group of three Jewish industrialists, holders of non-American passports, were assisted with fare at the Portuguese frontier by Dr. James Bernstein, director of the HIAS-ICA Emigration Association, who was traveling on this train. Dr. Bernstein also aided a non-Jewish British banker, a shareholder of Barclay's Bank.
Although the two-car train in which we traveled was an international express, fare had to be paid in local currency at each border, and thus American money had to be converted into Portuguese currency at the station's exchange office. Frenchmen, wealthy in francs, found themselves suddenly penniless. Many of them were assisted by Americans on the train, but had to travel in a third-class coach, some of them probably for the first time in their lives.
The Portuguese authorities are giving preference to foreign diplomats and other prominent persons in obtaining lodging in Lisbon. Hotels have been ordered not to rent rooms without special permission from the police authorities. Many refugees are advised that should the influx continue they may be ordered to move into the provinces. Few others are arriving, however, because of difficulties at the frontier.
American journalists arriving here from France are warned by the Ministry of Propaganda that strict censorship exists in Portugal with regard to political news and each correspondent must submit his dispatches in three copies to the censor.