Spett
Visa Recipients
SPETT, Chaim Henri

P

A


Age 41 | Visa #2134
SPETT, Gabrielle Rose

P

A


Age 3 | Visa #2134
SPETT, Lizzi Irma née DREIFUSS

P

A

T


Age 34 | Visa #2134
SPETT, Michael Davis L.

V

P

A


Age 5 | Visa #2134
About the Family
The SPETT family received a visa from Aristides de Sousa Mendes in Bordeaux on June 18, 1940.
They crossed into Portugal, where they resided in Porto. They sailed from Lisbon to New York on the vessel Nyassa in December 1940.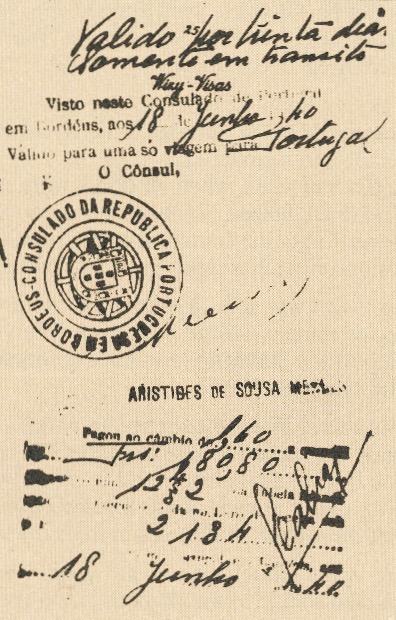 Visa issued to SPETT family in Bordeaux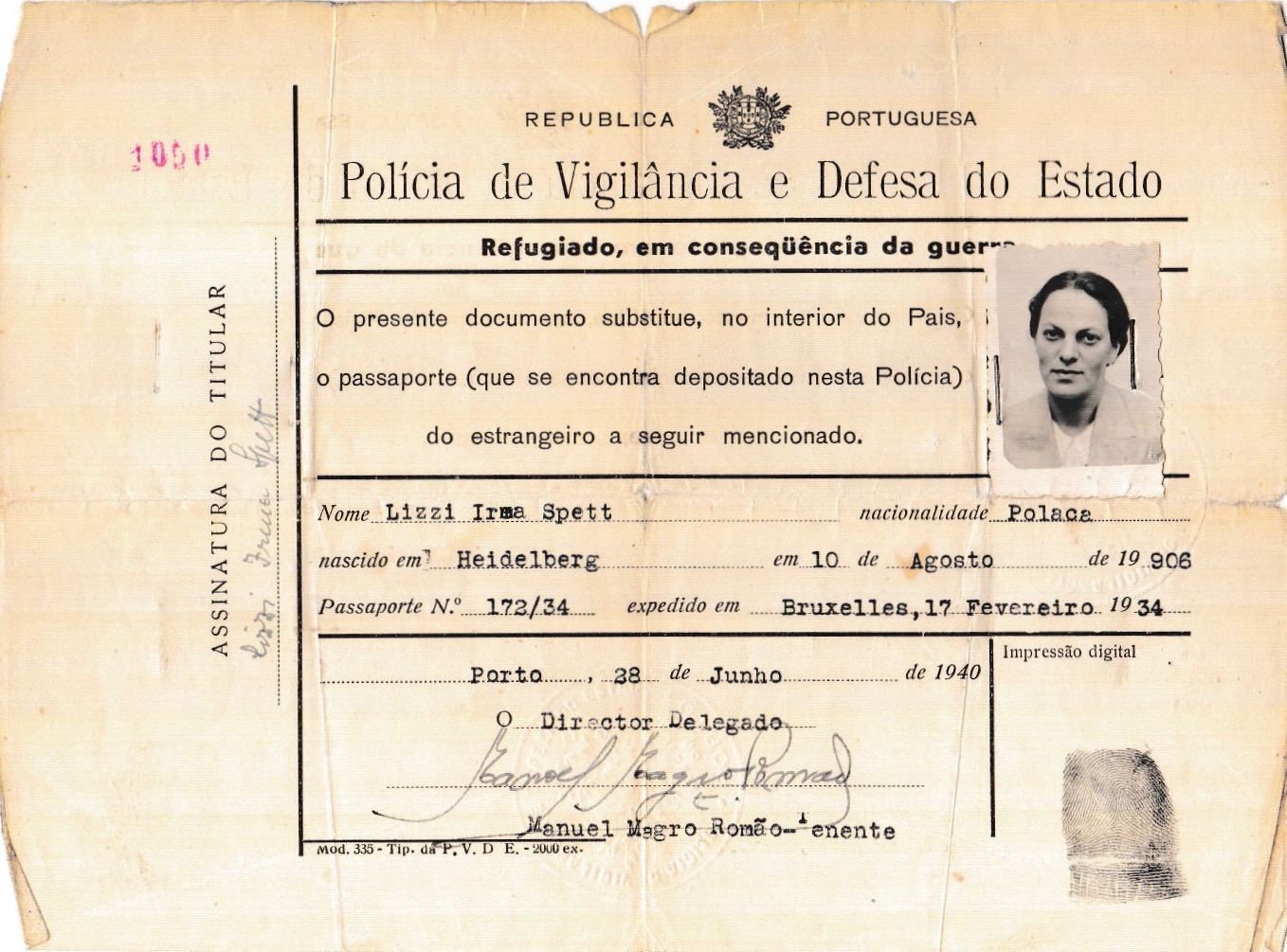 PVDE identification card of Lizzi Irma SPETT issued in Porto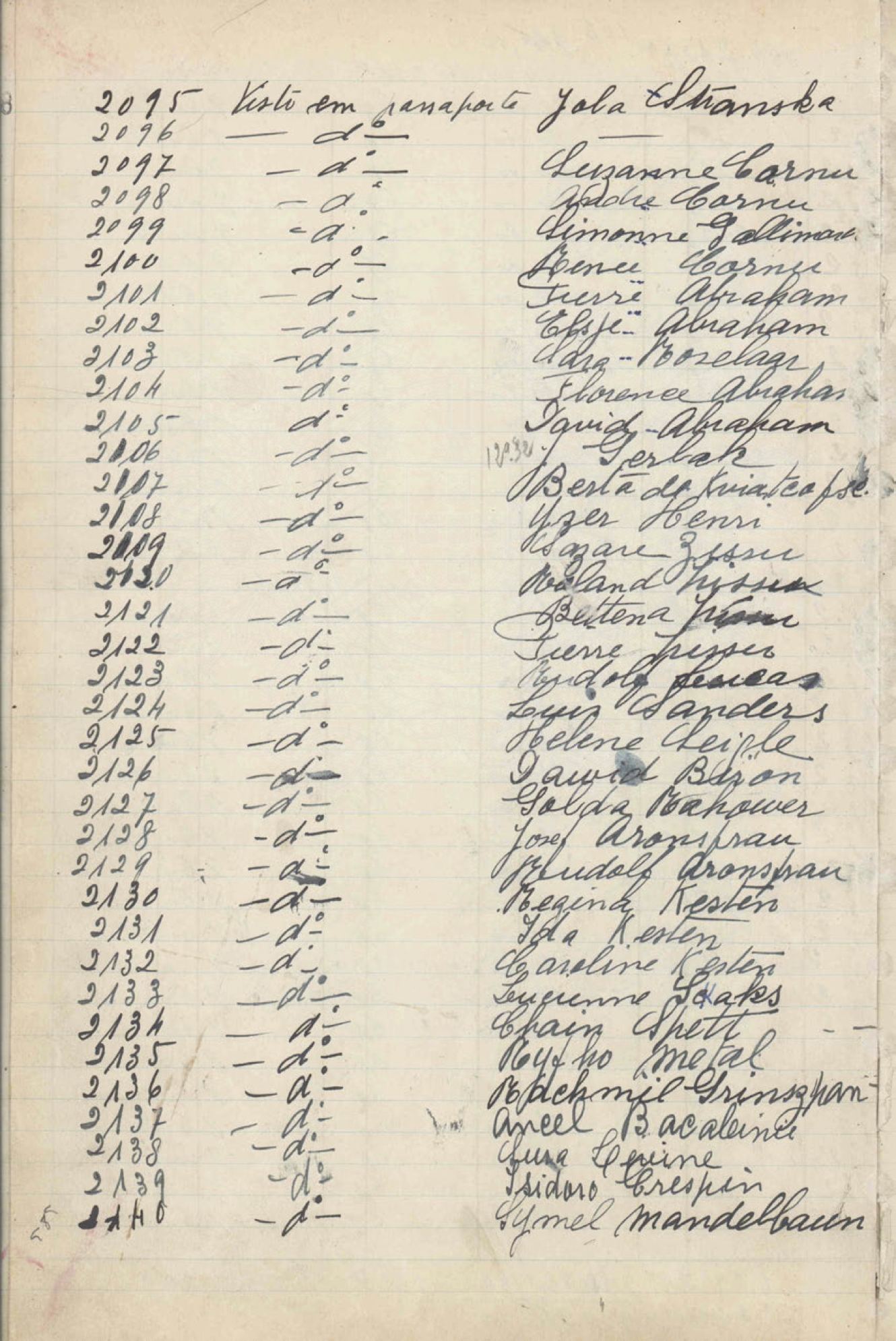 Page of Sousa Mendes Visa Registry Book listing this family and others - Courtesy of the Ministry of Foreign Affairs archives, Lisbon
Testimonial of Lizzi Spett
It was the eventful year 1940. Michael suffered from asthma and had frightening attacks. We said goodbye to Uncle Otto and Gretel when they left Antwerp for the States. On May 10, 1940 Brussels is bombed – Hitler's army on the move. May 12, the children sleep in the cellar while the bombs fell over Brussels. May 13 we leave Brussels – close our apartment and go into the world with two small children, two suitcases.  Never will I forget how this last night, like a stiff person – Max and family should they go with us… early next morning they decide yes.  I see some workers – the lawyer's young wife moving to me to say goodbye. 
Our exodus started.  To go to Paris at the station 1000's of people like us – the train did not have an end so long – we four, Gina and Max five more – to an unknown destination – 13, 14 of May – nobody could get out of the train on the floor in hallways – at each station soldiers with their guns over the shoulder – no Paris big detour.
 
The 15th at 5 o'clock in the morning, the sign Bordeaux. Heine gets out of the train and we don't know where he is. After hours he comes back with a doctor; my children are sick – so to examine them they have to get out. – Heine had made it up – saved his family. We four and Gina got out – but not Max and family… That was our luck – that was Heine Spett!!  We were free and our own master of destiny. This was a miracle…
We went to a small hotel for two days. On the main street walking there in a coffeehouse outside Heine recognizes the Krieger family – Mr. and Mrs. Uziel and their son Sam, friends from Hanover. They lived already for some time in Bordeaux. We were happy to see someone we knew.  They advised to leave Bordeaux and Sam had a car; he drove us to the outskirts of Bordeaux – Pessac – a little town.  Found a house the 17th of May.  Owner rented to us a few rooms, but the children should enter only through the back entrance, not to bring dirt with their shoes into her nicely kept home. Chez Mme Moulinil for five days.
The 22nd we moved to a real farmhouse chez Mme Sentout, 99 bis Chemin de Canejan in La Donne. We had empty rooms, a large kitchen with a big stove. We bought beds, kitchen table and chairs, pots and pans – and Sam Krieger transported the furniture to Pessac – until June 13, 1940.  Allez vous-en – get out of here – you are boches – bringing France to its downfall. She practically threw us out.
Through a printer Heine had found a little house in the woods at La Canneau on the ocean, Villa Premier Reve avenue Leon Dominique. Heine went every day to Bordeaux.  One night he did not come back – here I sit with my two little ones – the frogs quacked in the house. I feared the worst.  No telephone.  He had sent a telegram which was delivered two days later!  Well he had worked these days in the city – got the passports to go to Portugal-Spain. The French regime was transferred to the south of France from Paris to Bordeaux and all refugees had to leave the city.
Everybody wanted to get out – the Consulate was under military siege – nobody was allowed to enter.  Heine told one officer – I have my passport inside and I have to get it – he answered somebody tried this trick before – but Dad got in – his passport was in his side pocket.  After long waiting he was admitted to the office – the employee told him – here are passports, look for yours while he watched him – the telephone rings and the employee leaves his desk – the moment Dad could slip his passport into the pile.  After the employee found it, put his stamp on it – and after a few minutes Dad went out of the consulate with the registered passport!!
 
Hitler's soldiers and planes came closer to Bordeaux again and the flight – to Bordeaux train station.  Thousands of refugees stormed the trains – we lost a suitcase – got into the train, put M. & G. into a car – after we looked for a seat.  Heine and me separated.  When we found each other in which car were our children?  On the boardwalk of the train we called Michel, Gaby – we had lost our two children.  A woman on a window called us – here are two children alone in this car…  A miracle we had found them!!!

We got to Dax – out of the train and were led to a school – Ecole Supérieur – could stay there with 100 refugees – then at a small hotel Miramar – 21st [of June], 22nd, the 23rd left Dax.  We then hired a camion for a lot of money. It was pouring, will the driver come or are we trapped.  Later he came.  The children and I inside the camion – Dad dressed like a farmer with the driver.  We made it alongside the Gulf of Biscayne, where we saw the warships anchored, towards Irun, Spain.
 
The borders to Spain were closed – long miles of cars from Belgium and all Europe were stopped – among Erna [Ernestine] and Jos[eph] Akselrod we met – also waiting to get permission to Spain.  Heine went to the official to find out if and when we could go through.  The officer announces in this very moment, the borders are opened – a lucky moment – he runs to get us to the railroad station into the train – to Spain. The 24th June from Irun to Fuenta de Onoro, Spain.  (In margin –Pensiona Livoo –Imporio).  The Spanish girls in the train sang German songs they had learned from the revolution.  German soldiers – and our train speeds towards the Portuguese border to Vilar Formoso to Coimbra – a university city. Only later in the States we heard that a distant relative Hans Dreyfus as well as the Hiller family – later in Kew Gardens and also Dr. Schon were living there.
Since we were not allowed to bring pesos to Portugal we spent all our money at the train restaurant and Dad asked for us the best food and wines and desserts, as much as we could get into our stomachs – we had a real feast!  From Coimbra to Curia, Portugal a little pretty spa – and then to Oporto. In the Express train a very distinguished gentleman took interest of our plight, and took care of us until Oporto – Dr. Abel Portal – his father was the Consul in London.  He helped us finding a good hotel with clean beds.
Dad studied the telephone book to find Jewish names which he did.  The name of Gelerter, a dentist made our acquaintance with two lovely daughters Naomi and Fanny, 27 June. They had a good friend Flora Ehert – who had a large apartment.  We moved to her house – Tanta Flora – and for my housekeeping and cooking we had a lovely home.  She lived a long time in Oporto – an original German girl – had a sister – they both were lovely girls – both had boyfriends. Flora's friend was Abreo who had a travel agency and was an influential man.
We were in contact with Egon, who had stayed in France in Pessac to learn bakery and stayed with Mr. Chassanivral (?) and lived in his house till July 6 to join Max and Gina who were with other refugees in Montigue, close to Toulouse.  In Oporto lived the Levitans, he an employee of Belgian Sofina [Société Financière de Transports et d'Entreprises Industrielles, a large international holding company, headquartered in Brussels]. We had printed for them in Brussels and we got our money from them for old printing bills – that helped a lot.  Leon, Anni and Lillian were good friends during our time in Oporto.  There were big celebrations, the 800th Anniversary [of Portugal] and every evening fireworks.  My fear, the Germans are coming.  We are under steady fear – and Dad's occupation to alert friends, organizations, Jewish Community.  Alfons Wile from Shenley [large whisky company] – relative of mine – Heine travels back and forth to Lisbon, the American Consulate, letters to Nahum Goldmann, sicknesses with high fever the children, Heine, Liesel.
 
July 22 a first letter from Rolf and Otto [12 and 10 year-old nephews who escaped Germany with the Kindertransport in 1938 and were living on the Rothschild estate] from England.  Thank G-d they were safe.  Once in a while letters from Ilse and Mama.  Michael and Gaby learn Portuguese.  We go to the seashore not to be always with refugees, but to try to live a normal life… meet Dr. [Leon] Kubowitzky and family, Dr. Jeff Projansky and Clara.
August 15 Heine gets visa for Costa Rica in Lisbon – we visit the winery Gonzales-Byas through recommendation of Julius Wile.  8/23 telegram Nahum Goldmann hopeful obtain visa – will inform next week, also telegram from Alfons Wile. September 14 Visa approved.  9/28 appointment with Consulate. 10/3/1940 the first day of Rosh Hashanah get our Visa for U.S.A.  Oct. 27 move from Oporto to Lisbon Pensão Algarvo – war with Greece. 11/3 move to Rua do Pogo des Negros. Every morning fresh rolls we got with a basket on a cord – since there was a bakery on the first floor and we high up on the 4th.  Jef and Clara lived in the same house. How to get passage from Lisbon to the States, Abreo from Porto helps – booked with Nea Hellas – is not leaving because war with Greece – again wait – wait – wait.  11/23/1940 embark on the Nyassa to the U.S.A.  On boat till 12/4/1940 arrive in Hoboken.  Alfons Wile, Uncle Otto received us! Ellis Island to pass through. Arrive in Congress House 48 W 68 St. N.Y.