Vochoc
Visa Recipients
VOCHOC, Dr. Vladimir

P

A

T


Visa #2253
VOCHOCOVA, Alice

A


Visa #2254
About the Family
The VOCHOC couple received visas from Aristides de Sousa Mendes in Bordeaux on June 19, 1940.
Vladimir VOCHOC was the Czech consul in Marseille, and himself a rescuer and hero. He was arrested by French authorities of the Vichy government for his Resistance activities and later released. He subsequently managed to escape to Portugal and traveled from there to London in 1941.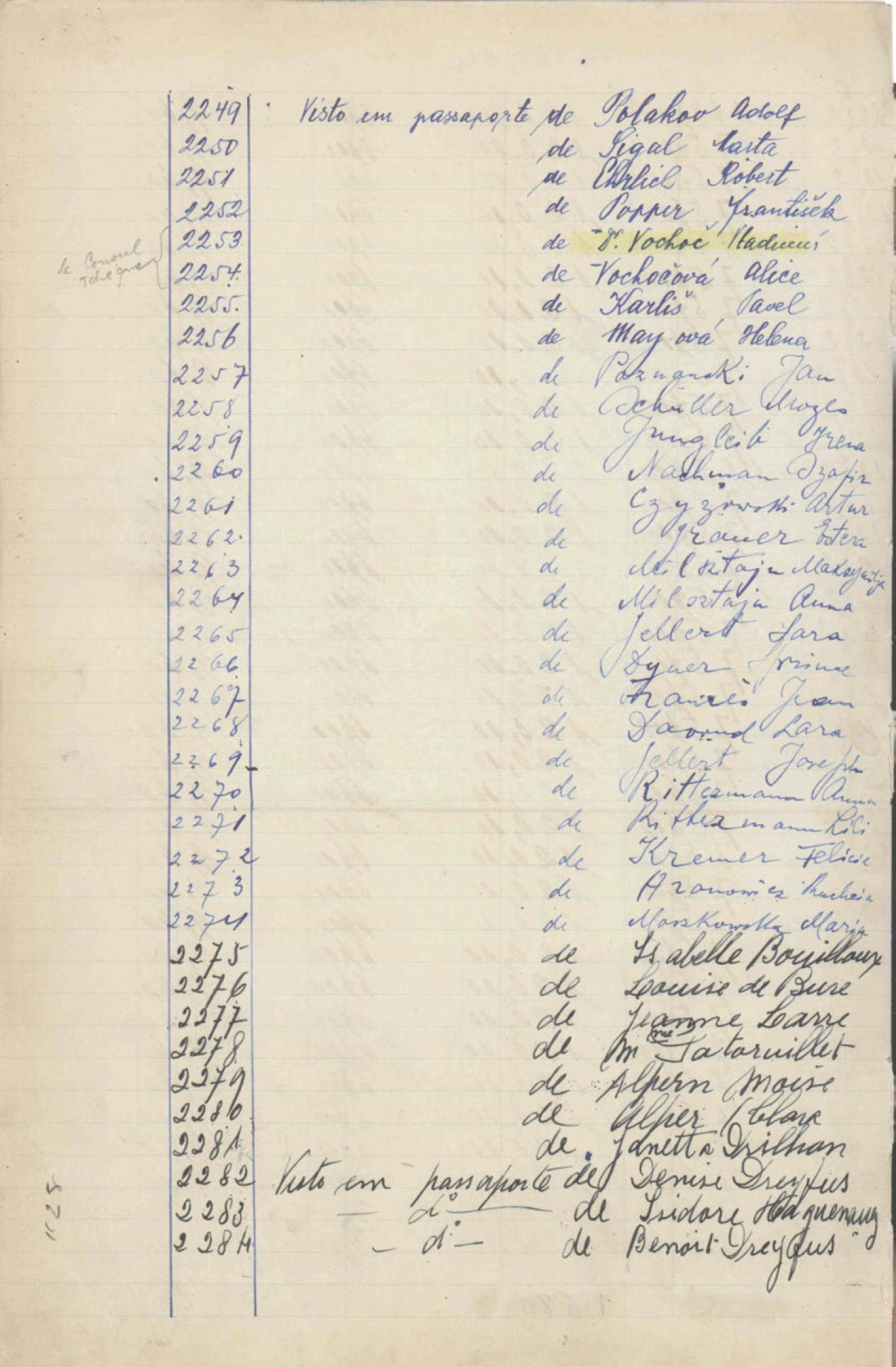 Page of Sousa Mendes Visa Registry Book listing this family and others - Courtesy of the Ministry of Foreign Affairs archives, Lisbon
From Donald Lowrie, The Hunted Children, 1963
The below testimonial is presumed to be about Aristides de Sousa Mendes and Vladimir VOCHOC, whose Sousa Mendes visa apparently served as a model for forging Sousa Mendes visas in Marseille in the summer of 1941.
By the summer of 1941 practically all our organizations were engaged in various efforts to help Jews escape the Vichy police. Clandestine passage into Switzerland was one way...
Quite understandably, the Swiss were not giving visas to people unable to produce evidence that they could eventually travel further, and who might thus become public charges in Switzerland. Hence any person we assisted to bypass the French border police had to have a visa in his passport indicating that he could travel to some overseas country... Soon several of our agencies were engaged in forgery.
The Czech Aid office was a good example. We had a few specialists in consular signatures. One man could make a perfect imitation of the signature of the Mexican attaché responsible for issuing visas; another practiced for weeks to be able to forge the name of the Portuguese consul general...
An amusing incident occurred with regard to the Portuguese consul's signature. After my Czech friend had reproduced this autograph on some scores of passports, he was astounded one day to receive a letter from the gentleman in question himself, with his own bona fide signature. It turned out that a French friend of Czech Aid told the Portuguese consul about our farms, suggesting that he write and ask for help in feeding his family.