Search continues for Holocaust refugees who escaped through Portugal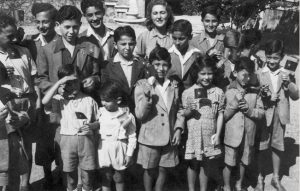 PLACEHOLDER TEXT
The Sousa Mendes Foundation is seeking to identify and locate Holocaust refugees who were given life-saving visas by Aristides de Sousa Mendes in the Spring of 1940.

Sousa Mendes, the Portuguese consul stationed in Bordeaux, France, rescued thousands of people from the Holocaust.  He did so by giving refugees visas to Portugal, in contravention of a document called "Circular 14" issued by the Portuguese government to its consular corps that contained strict orders not to do so.  As a result, he was put on trial by the Salazar dictatorship and harshly punished.

Aristides de Sousa Mendes died in 1954 in poverty and official disgrace, and almost erased from history.  In 1966 he was posthumously declared a "Righteous Among the Nations" by Yad Vashem, Israel's Holocaust authority.  In the late 1980's the Portuguese government formally apologized to the Sousa Mendes family and elevated him posthumously to the rank of Ambassador.
The Sousa Mendes Foundation, established in 2010 to perpetuate the memory of Sousa Mendes and the families he saved, has already identified nearly 4000 Sousa Mendes visa recipient individually by name.  The refugees came from all parts of Europe, received Portuguese visas in the south of France (Bordeaux, Bayonne, Hendaye or Toulouse) in April, May or June of 1940, and subsequently traveled through Spain to Portugal, from where they scattered to the United States, Canada, Brazil, the U.K., and elsewhere between 1940 and 1942.
Famous Sousa Mendes visa recipients include Salvador Dali, Hans and Margret Rey (authors of Curious George), the Habsburg family, the Rothschild family, and the filmmaker King Vidor, among others.  But most visa recipients were ordinary families escaping the horrors of Nazi persecution.
For more information or to share any knowledge about visa recipients or their families, please contact info@sousamendesfoundation.org or visit the foundation's website:  www.sousamendesfoundation.org
Rescue list
The following list includes just a few of the thousands of individuals from forty-nine countries who were saved as the result of the action of Aristides de Sousa Mendes:
Hamilton Fish Armstrong, founding editor, Foreign Affairs magazine
Daniel Branton, Professor of cell biology, Harvard University
Dr. Sylvain Bromberger, Professor Emeritus of philosophy and linguistics, MIT
Salvador Dalí and his wife Gala Dalí
Ilja Dijour, representative of the Hebrew Immigrant Aid Society
Richard de Grab, photographer
Archduke Otto von Habsburg and the Habsburg family
Dr. Lissy Jarvik, Professor Emerita of Medicine, UCLA
Robert Lebel, art critic
Kizette de Lempicka, daughter of the artist Tamara de Lempicka
Leon Moed, architect
Hans and Margret Rey, authors of the Curious George series
Paul Rosenberg, art dealer
Baron Maurice de Rothschild and the Rothschild family
Boris Smolar, chief European correspondent, Jewish Telegraphic Agency
Julian Tuwim, Polish poet and nephew of the pianist Arthur Rubinstein
King Vidor, Hollywood film director