Sousa Mendes Square in Jerusalem Caps Anniversary Celebrations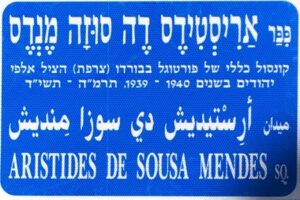 xxxxx
JUNE 24, 2020. FOR IMMEDIATE RELEASE. A city square in Jerusalem has been named in memory of the Portuguese diplomat and Holocaust rescuer Aristides de Sousa Mendes, on the occasion of the 80th anniversary of his daring rescue in 1940 of thousands of Jews, while stationed in Bordeaux, France. This memorial action is thanks to the efforts of the historian Dr. Mordecai Paldiel who serves on the Board of the Sousa Mendes Foundation and who was previously the Director of the Department for the Righteous at Yad Vashem.
xxxxx
A public ceremony marking the unveiling of the street sign had been planned for June 2020 but is postponed to a future date to be determined.  The street sign is in Hebrew, Arabic and English, and reads: "Aristides de Sousa Mendes Square, Consul General of Portugal in Bordeaux (France), saved thousands of Jews during the years 1939-40."
xxxxx
Dr. Paldiel stated, "Sousa Mendes is one of a group of diplomats honored by Yad Vashem as Righteous Among the Nations for helping Jews avoid deportation by granting them visas to other countries. However, he stands out from others as the only one who disobeyed direct and clear orders from his superiors not to grant such visas to Jewish refugees, and was consequently severely punished by immediate dismissal from his diplomatic post. He remains an example of what a difference one person can make in the pursuit of goodness, and therefore, an inspiration to present and future generations. I would like to thank the Jerusalem municipality, under the leadership of Mayor Moshe Lion, for bestowing upon Sousa Mendes a place of honor within this historic city."
xxxxx
Other anniversary events took place earlier this month. On June 9th, the Portuguese Parliament voted unanimously to induct Sousa Mendes into the National Pantheon. This action was significant, as Sousa Mendes died in 1954 after having been disgraced and punished by the Portuguese government of his time. On June 17th, Pope Francis invoked the memory of Sousa Mendes and his action to declare that date to be henceforth considered as the "Day of Conscience."
xxxxx
The Sousa Mendes Foundation was established in 2010 to perpetuate the memory of Aristides de Sousa Mendes and to educate the public about refugees and rescue during the Holocaust. Named "Organization of the Year" in 2012 by The Portuguese Tribune, the Sousa Mendes Foundation is engaged in a worldwide search for families who escaped the Holocaust through Portugal.  The Foundation has a two-fold mission: raising funds for the creation of a Sousa Mendes Museum and Site of Conscience and sponsoring projects that teach the importance of moral courage in a civilized world.
xxxxx
FOR MORE INFORMATION please contact info@sousamendesfoundation.org or (877) 797-9759.
xxxxx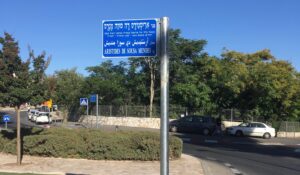 Photo credit: Avi Losice
xxxxx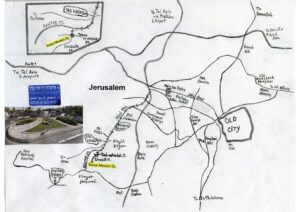 Aristides de Sousa Mendes Square, intersection of ISRAEL ZANGWILL and TORAH VA-AVODAH streets