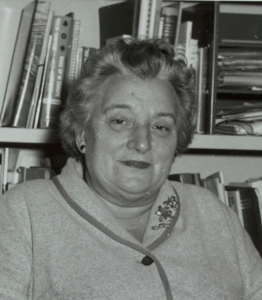 Please join us for a sneak preview of the not-yet-released film Truus' Children about the life-saving action of the Dutch rescuer Gertruuda ("Truus") Wijsmuller (photo shown here). Her chutzpah brought her face to face with Adolf Eichmann, from whom she obtained permission in December of 1938 to save 600 Jewish children from Vienna.  This was the first Kindertransport, in what eventually became a major operation that sent approximately 10,000 Jewish children to the United Kingdom from Germany, Austria, Poland, and Czechoslovakia. She was named Righteous Among the Nations in 1967, and yet her story is still barely known.  This event is not to be missed!
xxxx
THE SCHEDULE:
⇒ May 29-31, any time, RENT THE FILM for $4.99 (3-day rental)  To access the film, please click here.
⇒ May 29-31, any time, WATCH THE FILM on your home device.
⇒ May 31 at 2:00 p.m. US Eastern Time, DISCUSS THE FILM, its context and its relevance to today.  Meet the filmmakers Pamela Sturhoofd and Jessica van Tijn who will be in dialogue with Isabel Bauer-Langsdorf, one of the rescued children featured in the film.  They will have a discussion and then take questions.
xxxx
MEET THE PRESENTERS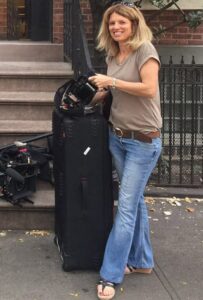 Dutch filmmakers Pamela Sturhoofd (at right) and Jessica van Tijn (below) are co-owners and co-founders of the media company Special Eyes Productions, established in 1998. Pamela studied Communication Sciences and Political Science at the University of Amsterdam and directing at the Media Academy in Hilversum. She has had a long career in the media world, working at Tros Aktua, Sleeswijk Entertainment and Stokvis Productions, and as an executive producer at Endemol.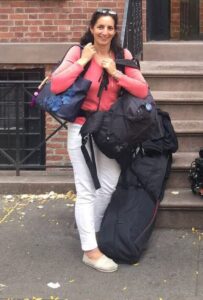 Jessica pursued studies in International Relations and Communication Sciences at the University of Amsterdam, followed by a postgraduate IB course at Clingendael Institute and a directing course at the Media Academy in Hilversum.  She has worked in Dutch radio and television (VPRO/VARA). Pamela and Jessica have traveled the world to track down and interview the children saved by Truus Wijsmuller, now in their 80s and 90s, many of whom had no idea who had saved them. Now the filmmakers are assembling the first-ever Truus Wijsmuller Archive to ensure that this story is preserved into the future.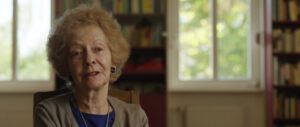 Isabel Bauer-Langsdorf (right and below) was born as Ilse in 1937 in Frankfurt, Germany. Her German Jewish mother was unmarried and therefore had to make the painful decision to give her daughter up for adoption. By doing so, she saved Isabel's life. In 1939, Isabel was brought to the Netherlands, which was not yet under German occupation. There she was taken in by Truus Wijsmuller, who arranged passage for her to the far-off island of Aruba, where a German Jewish couple who had escaped there was waiting to adopt her. But the ship, the Simon Bolivar, hit a German mine in the North Sea and sank. Little Isabel was among those rescued, but she was badly injured and spent the next several months in a hospital in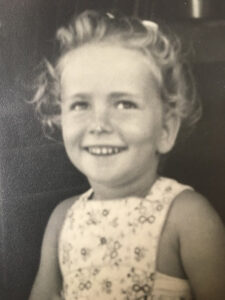 London. At the beginning of May 1940, a recovered Isabel returned to Truus Wijsmuller's care in Amsterdam. But as a Jewish child, she wasn't safe to remain in the Netherlands. On May 10, 1940, the day of the Nazi invasion of the Low Countries, Truus Wijsmuller traveled with the little girl to Paris. From there Truus arranged passage for her to Portugal and then by ship to Aruba, where her adoptive parents awaited her. Thanks to Truus Wijsmuller, Isabel Bauer-Langsdorf survived these multiple brushes with death, and today she lives in the United States.
Please note:  Registration for the discussion is closed.  But you are still welcome to rent the film at this link.